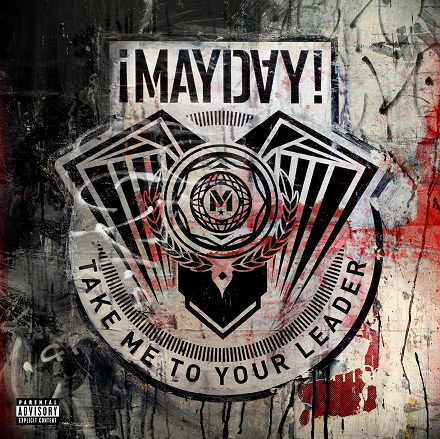 Following months of anticipation and updates,¡MAYDAY!'s Strange Music debut, Take Me To Your Leader, has officially become available for pre-order.
The full length release from the Miami group promises to be one of the year's most unique releases, with guest features from the likes of Tech N9ne, Krizz Kaliko, Liz Suwandi, Murs, and Del The Funky Homosapien. The album's buzz first kicked into overdrive when the band released an official trailer and the first single, "Death March", simultaneously. With the official pre-order now up, fans everywhere are eager to finally get their hands on the album. The Strange Music exclusive pre-order includes an autographed copy of Take Me To Your Leader, a full color sticker, a free download of an unreleased ¡MAYDAY! track, and a limited edition t-shirt (XL only).
The exclusive pre-order quickly became a hot topic online as ¡MAYDAY!'s hold on Strangeland takes shape. Be sure to grab your own and don't miss out on one of the hottest releases this year!
Click here to pre-order Take Me To Your Leader.
Check out what fans had to say on Facebook:
"Pre-ordered both Klusterfuk and Take Me To Your Leader last night! Just wanted to say thanks for making dope music, I'm excited for Take Me To Your Leader especially! I hope it sells a lot!!" – Tyler Chase Turner

"Just Pre-Ordered Your New Album! I Know it's going to be Dope! See you guys in Pompano, Keep It Strange Homies!" – Martin Duran

"Already pre-ordered it!!" – Berwa H. Mahmod

"Just got my order in. Can't wait to see you guys again in Cleveland!" – William Johnson

"Done. Had to pickup a MayDay shirt too. Haha. Anyway, can't wait for the album to ship! Thanks guys!" – Brad Montez

"PAYDAY TOMORROW DEFINITELY GETTN MY PRE ORDER" – Bobby Marquez

"Definatley preordering and mayday take me to your leader strange all da way" – Joseph Woska

"Just got my order in. Can't wait to see you guys again in Cleveland!" – William Johnson
Follow ¡MAYDAY! on Twitter: @MAYDAYMUSIC
Have you pre-ordered your copy yet?

What are you most looking forward to from Take Me To Your Leader?
Let us know in the comments section below!