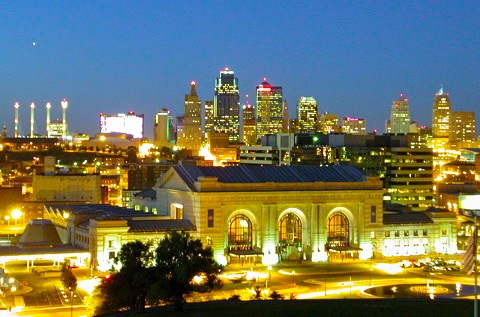 With so many people driving and flying into Kansas City for the finale to the Independent Powerhouse Tour 2013 at The Midland Theatre, it seems appropriate to offer a guide to out-of-towners and Kansas Citians alike as to the spots around Kansas City that Tech N9ne likes to hit up and are important to his music.
Check out this map of spots that are significant to Tech N9ne's life and music!
MAP
View Tech N9ne KC Tour in a larger map
Locations include:
Chubby's on Broadway: A great spot for late-night eats located in between Westport and downtown. Referenced in the song "Afterparty" from The Gates Mixed Plate: "After the club we / Usually go straight to Chubby's / That's where the three in the morning grub be."
Gates Bar-B-Q: The main street location of the one and only Gates Bar-B-Q, honored in the Tech N9ne Collabos The Gates Mixed Plate and heavily referenced in the song "O.G." which stands for Ollie Gates, the founder of the legendary barbecue chain. Tech N9ne orders a mixed plate and subs out the ham for turkey. Be sure to get a strawberry soda to wash it all down!
Fiorella's Jack Stack Barbecue: A more upscale barbecue restaurant than Gates, this restaurant is a favorite of many in Strange Music including CEO Travis O'Guin. Referenced in the song "O.G." on The Gates Mixed Plate: "Fiorella's might cost quite a bit."
The Midland Theatre by AMC: Where it all comes to a close, the venue that hosts the last date for Tech N9ne's Independent Powerhouse Tour 2013. Tech N9ne will perform with Brotha Lynch Hung, Krizz Kaliko, Kutt Calhoun, Rittz, and CES Cru. Go to strangevip.com for VIP passes and tickets.
Next Door Pizza And Pub: Home of The N9ne Pizza: a delicious deep dish with pepperoni, italian sausage, bacon, buffalo chicken, red onion, red peppers, and jalapenos. An excellent pie named after The Kansas City King himself.
Lucky Strike Lanes in the Power and Light District: Where Tech N9ne was turned away for wearing Dickies. Referenced in the song "Let Me In" from Sickology 101: "Lucky Strike in Power And Light won't let the Nina in to bowl."
The Paseo: A major north-south parkway in KC, MO. A commonly taken road for Tech N9ne and his peers during his upbringing. Referenced in the song "The P.A.S.E.O. (The Poem Aaron Saw Extra Ordinary)" from Tech N9ne Collabos: Misery Loves Kompany: "I spent my whole life on this KC Street / The Paseo where the real stay and the fake sees heat." Warning: The Paseo runs through some of the most crime-ridden areas of Kansas City. Do not drive at night unless you're from Kansas City and know where your'e going.
7th Heaven: A landmark of Kansas City hip hop and music culture, offering a wide selection of underground hip hop,smoking accessories, posters, Tech N9ne merchandise, jewelry, incense, and much more.
Paul's Liquor And Grocery: Growing up, this was the liquor store of choice for Tech N9ne, Big Scoob and the 57th Street Rogue Dog Villians. Featured in Big Scoob's music video for "All I Kno Is Hood".
Go-Chicken-Go: One of Tech N9ne's favorite spots for fried chicken, featured in the MTV Posted video of Tech N9ne's hotspots around Kansas City.
AMC Mainstreet 6: Tech's favorite place to catch a movie. Located right down the street from The Midland Theatre by AMC. Features Cinema Suites and reserved seating.
Fran's Classic Diner: Tech's favorite spot for after-hours eats. Serving everything from breakfast to burgers, this is a great place to chow down after the show.
Mutual Musician's Foundation: This historic landmark dates back to 1917, and is the only place in Kansas City that serves alcohol until 6 AM. As they have since 1930, local Kansas City musicians gather at The Foundation to jam after midnight every Friday and Saturday night. Tech N9ne has recently started frequenting the establishment because of its late hours.
Click here to order your VIP passes for the Independent Powerhouse Tour 2013 in Kansas City!
Have you been to any of these places?
Are you coming to Kansas City for the Independent Powerhouse Tour 2013?
Let us know in the comments section below!