This is one of the best interviews with Tech N9ne that we've ever seen.
Rover's Morning Glory, a syndicated and national radio talk show based out of Cleveland, recently had "the complete technique of rhyme" on the show for a nearly 40-minute long interview that is equally informative and entertaining.
Show-host Rover covers a wide variety of topics with Tech in a personable and comfortable manner that makes up for a highly watchable interview.
Some of the topics include:
Tech's upbringing: raised by a single mom, had a father who was largely absent, the presence of his step-dad around 12 years old.
How Tech started rhyming.
MGK's notoriously wild behavior on the Hostile Takeover Tour.
Growing up in gang neighborhoods and having Blood affiliations.
And much more!
WATCH
CLICK HERE FOR TICKETS AND VIP TO
THE INDEPENDENT POWERHOUSE TOUR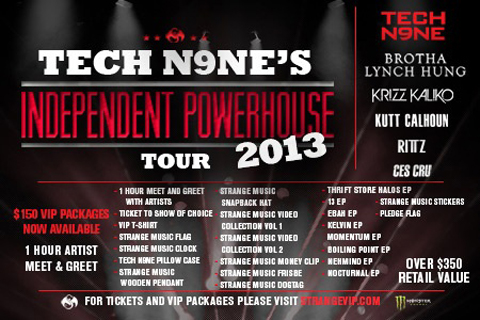 What was your favorite part of this interview?
Leave your thoughts in the comments section below.