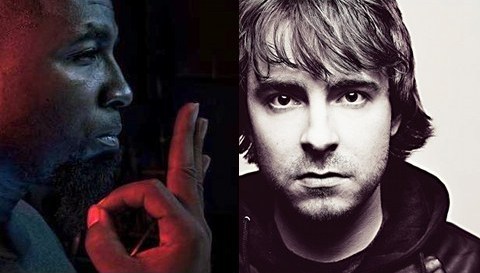 Take a view from both sides of the board when it came to putting magic on wax.
In this fascinating and insightful article on Hot New Hip Hop, both Tech N9ne and Seven are given chance to shed light on the making of "B.I.T.C.H.", the lead single from Tech N9ne's hotly-anticipated album Something Else.
This piece traces the song from the end product, to the concept, to the beat itself which sparked the entire record.
Tech N9ne lets people into his mind concerning the content of the song, stating:
So when I heard the beat for "B.I.T.C.H." and I called it "Breaking Into Colored Peoples' Houses," I needed somebody on the chorus, to get me in those houses, you know what I mean, to get me on that television tube and get me into these houses that don't really accept Tech N9ne. And I called T-Pain 'cause I know he's perfect at what he does, and I had to give him a pep talk, I said, 'you are my instrument, to get me into these folks houses. So you don't have to say 'bitch' on the hook, you don't have to say anything, you're just like, 'I'm breaking into your house, this is what I'm gunna do, through my music, coming through your television.' And I think he did a wonderful job, and I've seen it pop up everywhere now. And I thank him so much to get that message out to my peoples. I asked for so many years, I asked, I been knockin and knockin and knockin. Now I'm breaking into colored houses, as me, and they're gunna accept me like this, through the song.
Beatsmiths and production geeks will love Seven's portion of the article, in which he breaks down his thought process behind the beat, the style he molded for Tech N9ne and even goes in-depth into the equipment and programs that he uses to achieve his sound.
Seven on his method for making the choir-sounds in the production:
When I sit down to look for opera samples, I usually just find a really good high quality patch and play around with chord progressions until something feels right. I'll stack everything with big lush harmonies and make them feel really big. A lot of times I'll resample the choir part I've put together and then chop it back up as if it was a sample I looped from somewhere. That way it can actually feel like a real sampled loop, but still completely original.
For a first-hand look at geniuses at work, this article is a very necessary read.
Click here to read the entire article.
What do you think about "B.I.T.C.H"?
What was your favorite part of this article?
Leave your thoughts in the comments section below.