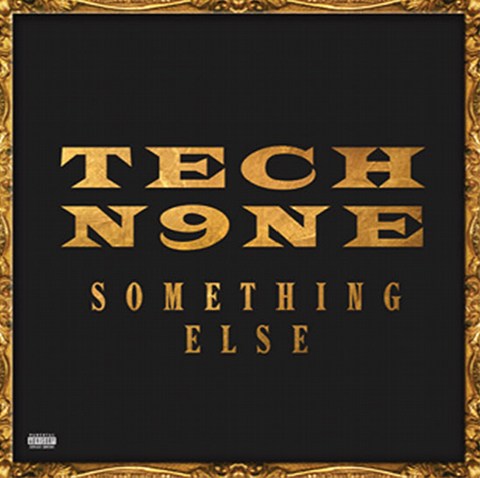 When it comes to giving something brand new, unexpected and game-changing to the world of hip hop, there's no room to cut corners.
In a very well-written and insightful article from Oregon Music News, Tech fully explains why it's taken him so long to deliver a follow-up album to the chart-crushing All 6's and 7's.
We had to push it back again because we're trying to put together a massive, massive album. You have to top your last one, which was also extremely massive, which was All 6s and 7s. We have a lot of wonderful features thus far that I can't really talk about but the music and the lyrics are "Something Else" and what I mean by that is that the music is something else other than what you are used to listening to on the radio or television—that it's something else! Tech N9ne is something else. Not like another. The beats are that, the lyrics are that, and when you hear the way I did my collaborations you'll get that too. I just made music on this thing. I didn't try to have a format. I just don't care if the song is seven minutes long. I'm just going to do it. You know? That's what I did. I'm not sure if I have a "Freebird" on there like Lynyrd Skynyrd or maybe something like Five Finger Death Punks, how about that!
The article is also a very well-written account of Tech N9ne's demeanor and appeal. In it Tech also describes "Come Gangsta" as his quintessential song:
It has everything I do in it. It's melodic. It's steamy. It's word play. It's simple. It's intricate. It's everything in one. It's theatrical. There's operatic stuff happening in it. There's rock and roll happening in it. There's hip-hop happening in it. You know what I'm saying? It's everything and if you can listen to that song and actually say, "Oh I don't like that" then you don't like music.
Click here to read the entire article.
CLICK HERE FOR TICKETS AND VIP PACKAGES TO
THE INDEPENDENT POWERHOUSE TOUR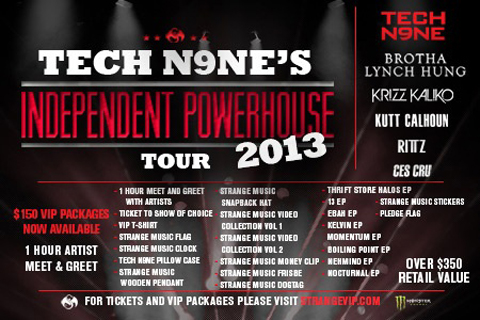 What do you hope to see Tech N9ne do with his music on Something Else?
Leave your thoughts in the comments section below.