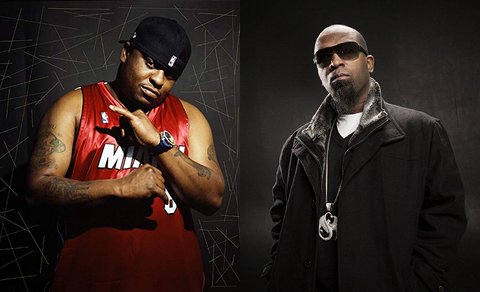 Scarface shook things up considerably in a recent interview by stating that "hip hop is white." Tech N9ne chimed in on the controversial statement that sent shockwaves throughout the hip hop community.
Tech N9ne offers his opinion on the statements of a fellow legend who also appeared with Tech on his song "Pillow Talkin" from Killer. In an interview given to Stupid Dope, Tech N9ne seconds the notion that there is a big white presence in hip hop, however, makes it known that the tastemaking aspect of hip hop has always started in the streets, and that it doesn't get any more street than Scarface.
What do you think of Scarface's recent comments that 'hip hop is white'… I think whenever I went to a NWA, Public Enemy, Eric B., Rakim, Ice-T show back in the day it was all white people. They've always been the majority when it comes to the consumer but what Scarface said has some validity because the people who are the taste makers and the people who dictate what's dope to go on TV or radio probably have a distorted view when it comes to n****s with something to say like Scarface. Like when he put out The Fix, I thought that was one of the best things he ever put out and sometimes it can be over the heads of the youngsters, cuz it's so game oriented. So I see why he feels that way. Because the people who are dictating what's hot and what's not are probably younger than us and the kids run this shit. So I feel him, but at the same time you gotta get in and if you wanna really still survive, they said it in the song Street Life, if you keep it young your song is always sung. But it's hard to keep it young, when like I'm 41 right now but I don't have to try because I'm young at heart and I'm sick but I'm ready to party right now. But hip hop has always been white, but it's black in some places also, I've seen it.

So I'd say to Scarface, you're the taste maker Scarface, you tell the motherf*ckers what's dope 'cause it always starts in the street, my n***a and you are the street my n***a, so you are gonna dictate what's cool so keep doing that and you ain't gotta worry bout what color hip hop is. Just know that hip hop is everything and for everybody. And Scarface is a vampire like me because we've seen the rise and fall of a lot of emcees and he's able to come back and have shows so he's in a blessed position but if you keep it young, your song is always sung. You know what you doing, don't let it deter you brother.
Click here to read the entire interview.
WATCH the interview with Scarface that sparked the whole conversation
CLICK HERE TO PURCHASE KILLER
What do you think about what Scarface said?
Leave your thoughts in the comments section below!