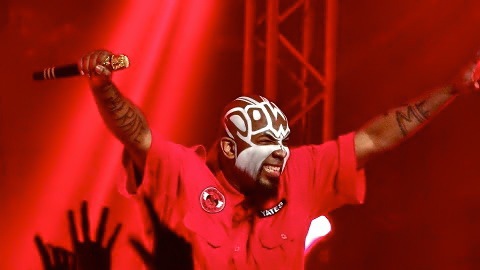 It all started in KC, and for The Independent Powerhouse Tour, it's going to end there.
On May 11, 2013 Tech N9ne makes a triumphant return to his hometown to cap off one of the most elite tours that he's put on in years. We caught up with the Strange Music general to get his thoughts on what it's like to give back to the city that created who he is today: an independent legend.
What is it like for you to step out on that stage knowing you're in front of your hometown and feeling that excitement. When you do that are you getting flashbacks of what it was like before this?
Well, everytime I step out there I can't believe it's as big as it's gotten because Kansas City's a hard market to crack. I just can't believe all the love that I receive when I'm on there. The energy is fucking crazy and gets crazier every year so I can only imagine that this one is going to be even higher, the energy level, because of the acts because of our lineup and everything.
Every time I'm up there and I'm inside that little whatever my backdrop is, whatever I get uncovered from, and I hear all the screaming, I still can't believe it, that people still love me that much. I'll never get used to it and I'm blessed to have that love.
They say it can be the best to see your favorite artist in their hometown. It's kind of crazy that you're in a position to where you have people coming from California, New York to come see you on this Kansas City show.
Wait a minute, back up, back up. I got people from Germany coming for this one.
Oh wow.
Yes. So people are coming from overseas on the KC show.
So it's really worldwide now.
Yes. It's getting to where we're going to have that giant barbecue like we've been talking about. Everybody comes to Kansas City for that weekend you know? Because people are already turning their KC dates into that, they're coming from everywhere.
I don't want to press this part too much because I don't know what you're schedule is like going into this but I know that for the Crossroads, you really had, especially older fans, go crazy because you pulled out some older songs that you hadn't done in awhile. Do you plan a surprise this time around?
Yeah man we're doing a couple ones that we've never done before on this show and the fans are already loving it everywhere. I'm not going to tell you what it is but you know, we're pulling some surprises and we've been working it everyday out here like crazy. I have bronchitis on stage and everything but once I"m on stage up there it's over with because of all the love and the energy.
Let me ask this last thing about Kansas City, but what's the best place to stay in Kansas City? Because I remember last time you kept mentioning the Hotel Phillips.
Yeah because it's close to the venue. Two minutes away. It's the ultimate place to stay in Kansas City if you have the means.
The ultimate place to stay in Kansas City – if you have the means, is Tech N9ne's house (laughs). That's what some people do. It's far from the venue though.
You might have a bunch of people coming to your house.
Ha! Nah, they gotta have the inside invite.