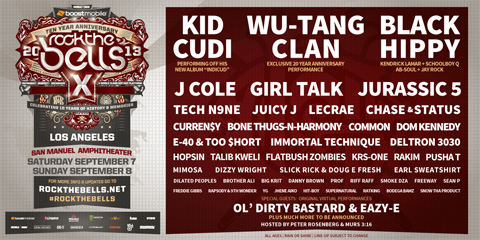 ROCK THE BELLS HOSTS SECOND ANNUAL NEW YORK PRESS CONFERENCE AND LAUNCH PARTY AT HIGHLINE BALLROOM IN NEW YORK CITY
ARTIST ADDITIONS TO 2013 LINEUP INCLUDE ACTION BRONSON, BIG DADDY KANE, DELTRON 3030, FREDDIE GIBBS, FREEWAY, GIRL TALK, J. COLE, KRS-ONE, PRETTY LIGHTS, PUSHA T, RAPSODY& 9TH WONDER, RIFF RAFF, SLICK RICK & DOUG E. FRESH, SEAN P, SMOKE DZA, WALE, and YG
NEW ALBUMS FROM OVER TWENTY ARTISTS TO BE FEATURED AT FESTIVAL
MORE ARTISTS TO BE ANNOUNCED
Boost Mobile in association with Guerilla Union have announced another round of artist additions to the 2013 ROCK THE BELLS FESTIVAL SERIES line-up. ACTION BRONSON, BIG DADDY KANE, DELTRON 3030, FREDDIE GIBBS, FREEWAY, GIRL TALK, J. COLE, KRS-ONE, PRETTY LIGHTS, RAPSODY & 9TH WONDER, RIFF RAFF, SLICK RICK & DOUG E. FRESH, SEAN P, SMOKE DZA, WALE, and YG will join previously announced performers on the festival's 10th anniversary celebration this year.
Guerilla Union president CHANG WEISBERG unveiled this list at the second 2013 PRESS CONFERENCE & LAUNCH PARTY on June 24th at the Highline Ballroom in New York City (the first Press Conference and Launch Party took place on May 14th at the House of Blues Sunset Strip in Hollywood). When asked about the progression in booking electronic dance music to a hip-hop festival, Weisberg explained: "It's important to acknowledge the bridge being gapped between hip hop and EDM. They're no longer two exclusive genres and we're starting to see major overlap between both styles, especially in areas like LA, NYC, and DMV. Hip-hop is not one dimensional, it's actually more diverse than it's ever been, and I'm glad that we're able to showcase and celebrate the many different sub-styles of the genre."
Not only will fans experience electronic dance music at the festival for the first time, but they will also experience an entirely new venue in New York and Washington DC. Weisberg states: "We're excited to add to Rock the Bells history by bringing the tour to two never-before-used venues on the east coast. Meadowlands Racetrack has a beautiful, massive grass infield and is just a quick train ride from the heart of Manhattan, making it a perfect location for our festival. Additionally, the Festival Grounds at RFK Stadium in D.C. have a prime, traditional layout with open floor General Admission and VIP standing room, which will make the event flow easy to navigate for our fans."
More than twenty artists on the roster are releasing new albums this year including Curren$y (Pilot Talk III), Danny Brown (Old), Deltron 3030 (Event II), Dom Kennedy (Get Home Safely), Earl Sweatshirt (Doris), Hopsin (Knock Madness), Juicy J (Stay Trippy Mane), Schoolboy Q (Oxymoron), Tech N9ne (Something Else), along with the already released successes from Kid Cudi (Indicud), Tyler the Creator (Wolf), and J. Cole (Born Sinner). Plus, the legendary Wu-Tang Clan will celebrate their 20th year anniversary of 36 Chambers, as well as their ninth studio album A Better Tomorrow.