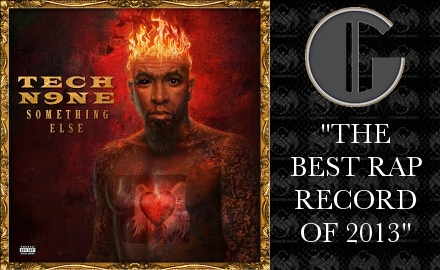 It's been a week into the new year but the accolades from 2013 won't stop rolling in for Tech N9ne.
The Gotham News, a New York City-based online entertainment outlet, placed Something Else in their list of the best releases of 2013, also calling it the best hip hop album in 2013.
Check it out:
Underground hip hop phenom Tech N9ne has unloaded without a shadow of a doubt the best album of his long and storied career. While Kanye and Jay-Z were both dropping mediocre efforts and proclaiming to be the best rappers on the planet, Tech N9ne was in the trenches, firing on all cylinders with 'Something Else'.

He continues to get better with every release and not just on a technical level (because he rhymes with such speed and precision it's ridiculous). He embraces all genres of music and because of his willingness to experiment and collaborate, he always excels when it counts — unleashing the best rap record of 2013.
Click here to read the entire list.
What did you think of the list?
Is Something Else the best rap record of 2013?
Leave your thoughts in the comments section below.
CLICK HERE TO PURCHASE SOMETHING ELSE