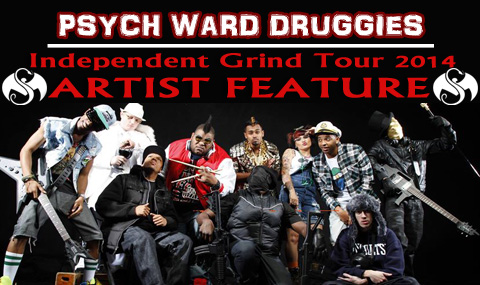 What do you get when an innovative mad scientist takes a guitarist, skateboarder, singer, drummer, producer and a couple of emcees and throws them into a psych ward?
The elusive industry pro, Dr. Salohcin did exactly that and ended up with the Psych Ward Druggies – the hip hop band currently making a splash in the LA scene.
Formed in 2013, the group consists of Sir Ryan Anthony, Golden Boy, Strikes, Ryan Bowers, Kehlani, Hero, Don Druggie and P Blanco Deville. Referred to as patients thrown in a psych ward, their collective life experiences play a big role in their music.
The PWD have taken an upfront approach to getting their name heard, using guerilla tactics of performing surprise shows outside of venues anywhere they think their fans want to see them and where they can find new followers as well.
Fans can also get a taste of the Psych Ward Druggies from their debut mixtape, Religious Prescriptions, the 34-track is a glimpse into the group both as artists and individuals. Their music spans from insightful tracks like "Respect the Shooter" to club bangers like "Pop It For A Player" that promise to get the crowd going when they head out on the Independent Grind Tour this spring!
Keep up with the Psych Ward Druggies on Facebook, Twitter, Instagram and their website!
CLICK HERE TO PURCHASE VIP PACKAGES FOR THE
INDEPENDENT GRIND TOUR!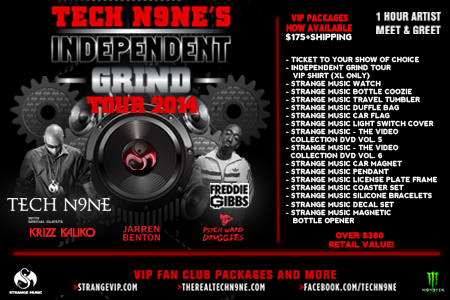 – Have you checked out the Psych Ward Druggies? How do you like their music?
– Are you excited to see them on tour with Tech?
Let us know in the comments section below!