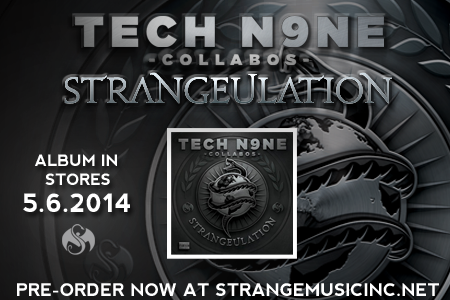 Technicians! Tech N9ne is set to unleash his newest Collabos album on May 6, Tech N9ne Collabos – Strangeulation! Featuring a who's who of your favorite Strange Music artists, Strangeulation proves to the masses that Tech N9ne and Strange have the world in a lyrical chokehold that will leave lesser artists gasping for air! Don't miss your chance to get the newest release from Tech N9ne: Tech N9ne Collabos – Strangeulation.
Three different versions are available for you to choose from:
– the STANDARD CD version
– the DELUXE CD version (this autographed version includes a limited edition collectible coin and 3 additional tracks not found on the Standard CD version)
– the DELUXE VINYL version (includes the 3 additional tracks found on the Deluxe CD)
Select which versions you want to pre-order today and, with every version, in addition to your copy of the Tech N9ne Collabos – Strangeulation album, you'll also receive an EXCLUSIVE BONUS DOWNLOAD TRACK not available anywhere else, as well as a limited edition Strangeulation t-shirt (XL only) and a Strange Music decal!
CLICK

HERE

TO PRE-ORDER STRANGEULATION