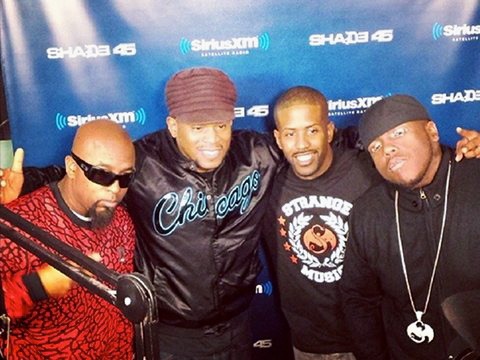 Tech N9ne pulled out all the stops for his return to Sway In The Morning.
Tech N9ne came along with Krizz Kaliko to chop it up with longtime friend and Strange Music supporter Sway.
Tech went on to talk a bit about the upcoming Collabos project Strangeulation, revealing that Jay Rock will be on the highly anticipated project.
An interesting challenge was issued to the songwriting duo, as Sway issued a beat for Tech and Krizz to write a hook to. The partners in rhyme rised to the challenge with ease and delivered a memorable hook right on the spot.
Tech then introduced the first song to be heard from Collabos: "Hard". The track features Tech N9ne on the initial verses, but suddenly he throws a lyrical alley oop to Strange Music's newest signee, and before you knew it, MURS appeared on the Seven-produced banger for the world to hear.
After the song was complete MURS walked in the studio to greet Sway, humorously presenting him a gif with The Book Of Answers. When talking about the signing, MURS had some choice words to say about Strange and how they conduct proper business in an improperly ran industry:
"They paid me what they said they were going to pay you. They pay you what they said they're going to pay you when they said they're going to pay you. There's a certain degree of straightforwardness that you don't get in the music business."
WATCH
– Did you listen to the broadcast? What did you think?
– What did you think of the song "Hard"?
Leave your thoughts in the comments section below.