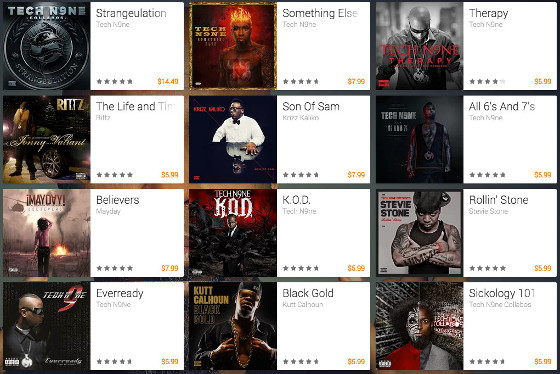 Why stop at Tech N9ne Collabos – Strangeulation? Go to Google Play Music right now and get caught up on all your favorite Strange Music releases!
Now that Strangeulation is highlighting the elite roster of artists on Strange Music, what better time to offer the Strange Music catalogue at a reduced price for fans who need to get caught up? By heading to Google Play you can get a hot deal on classics like Tech N9ne – All 6's and 7's, Kutt Calhoun – Black Gold, Stevie Stone – Rollin' Stone, ¡MAYDAY! – Take Me To Your Leader, Rittz – The Life and Times Of Jonny Valiant, CES Cru – Constant Energy Struggles and a WHOLE lot more!
CLICK HERE TO GO TO GOOGLE PLAY AND PURCHASE
SOME GREAT ALBUMS FROM STRANGE MUSIC
Which albums from Strange Music have you wanted to hear but haven't gotten a chance to yet?
Leave your thoughts in the comments section below.