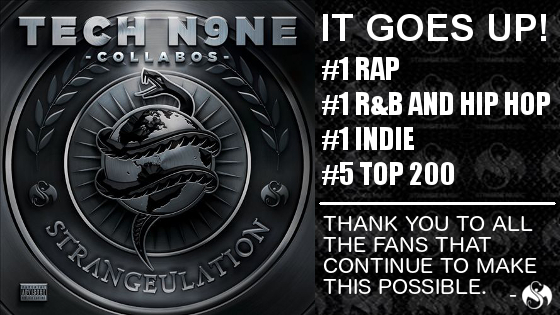 Numbers don't lie: amidst the uncertain climate of an ever-changing music industry, fans of great music have spoken and the independent model of Strange Music continues its ride on the upward path.
First week sales are in and Tech N9ne Collabos – Strangeulation has lived up to the name, putting the industry in a chokehold and dominating the charts all across the board, making Strangeulation the most successful Tech N9ne Collabos album to date.
#1 Rap
#1 R&B and Hip Hop
#1 Indie
#5 Top 200
Strange Music would like to thank you, the fans, for continuing to make what we do possible. When this label started in a basement in 2000, being independent was not the proven model of success. Because of your unwavering support, we have shown the world, time and time again, that great music will always prevail. Throughout the ever-changing trends, fads and shifts in technology within this crazy thing called the music industry, one thing remains the same: everything we do at Strange Music starts and ends with the fans. At the end of the day, our success only reflects the continued support you are gracious enough to give. So, from the CEO, artists and staff, we extend our heartfelt gratitude and hope to continue to make you a proud supporter of the Snake and Bat. It Goes Up.
CLICK

HERE

TO PURCHASE
TECH N9NE COLLABOS – STRANGEULATION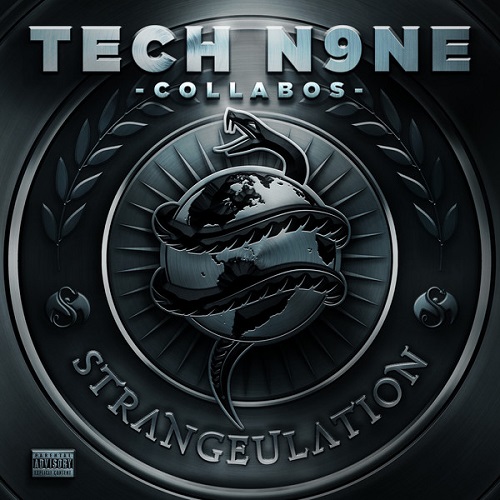 Why do you think Strange Music continues to go up?
Leave your thoughts in the comments section below.