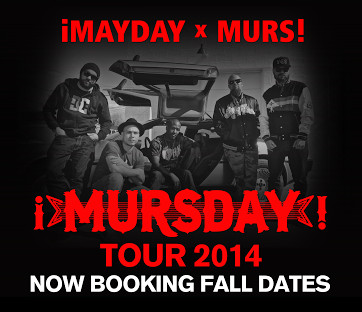 ¡MAYDAY! x MURS are looking to come to a city near you this fall!
Want to see them at a venue near you, then spread the news and get this page to your local venue or promoter. The cities and dates listed below is when/where the ¡MURSDAY! Tour 2014 will be rolling through.
WATCH
All serious inquiries can be sent to booking@strangemusicinc.com.
10/1 – Salina, KS
10/2 – Ft. Collins, CO
10/3 – Denver, CO
10/4 – Colorado Springs, CO
10/5 – Albuquerque, NM
10/7 – Oklahoma City, OK
10/8 – Tulsa, OK
10/9 – Little Rock, AR
10/10 – Nashville, TN
10/11 – Birmingham, AL
10/12 – Atlanta. GA
10/14 – Pensacola, FL
10/15 – Tallahassee, FL
10/16 – Tampa, FL
10/17 – Miami, FL
10/18 – Orlando, FL
10/19 – Jacksonville, FL
10/21 – Charlotte, NC
10/22 – Norfolk, VA
10/23 – Washington, DC
10/24 – New York, NY
10/25 – Boston, MA
10/26 – Buffalo, NY
10/28 – Cleveland, OH
10/29 – Detroit, MI
10/30 – Indianapolis, IN
10/31 – Louisville, KY
11/1 – St. Louis, MO
11/2 – Kansas City, MO
11/4 – Omaha, NE
11/5 – Des Moines, IA
11/6 – Chicago, IL
11/7 – Milwaukee, WI
11/8 – Madison, WI
11/9 – Minneapolis, MN
11/11 – Rapid City, SD
11/12 – Billings, MT
11/13 – Missoula, MT
11/14 – Spokane, WA
11/15 – Seattle, WA
11/16 – Eugene, OR
11/18 – Chico, CA
11/19 – Reno, NV
11/20 – Sacramento, CA
11/21 – Santa Cruz, CA
11/22 – Los Angeles, CA
11/23 – Orange County, CA
11/25 – Las Vegas, NV
11/26 – Flagstaff, AZ
11/28 – Tucson, AZ
11/29 – Phoenix, AZ
11/30 – El Paso, TX
12/2 – San Antonio, TX
12/3 – Houston, TX
12/4 – Dallas, TX
12/5 – Wichita, KS