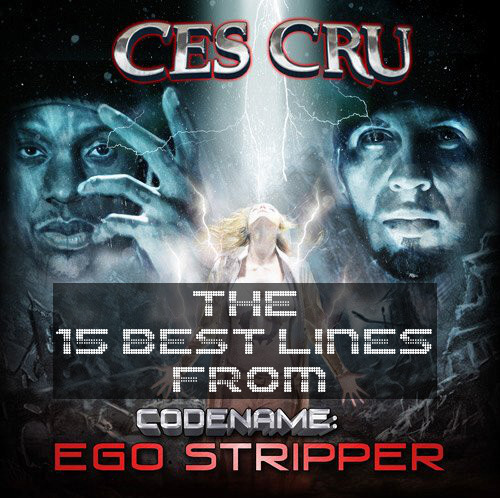 When it comes to picking the 15 best lines in a CES Cru album, it's almost easier to choose lines that aren't insanely amazing.
With an album like Codename: Ego Stripper that's packed full of quotables, the task wasn't easy to dissect 15 moments that stand out from the rest but we gave it our best.
We expect you to disagree, provide your rebuttals and straight-up call us out if you think we missed something. You wouldn't be a Strange Music fan if you weren't honest, so don't let us down! Write out in the comments how you feel about the list!
Without further ado, the 15 best lines from Codename: Ego Stripper.
"Show me a rap god, Tutankhamun is too uncommon

Pompeii when I bust, I'm spewing lava."
One of the most-discussed lines from the album, Ubiquitous makes reference to Eminem's shockwave of a song "Rap God" and states that there aren't too many out there who stand up to the title. Ubi proves himself worthy of the discussion with his following line, a reference to the Italian city of Pompeii, which was decimated in 79 AD from the volcanic eruption of Mount Vesuvius.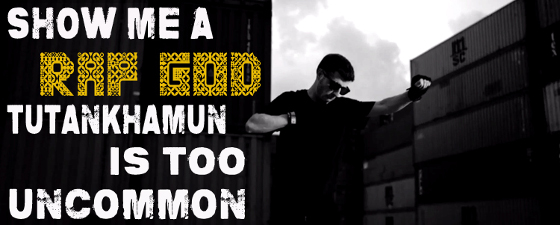 "I make music for a living so everyday is the weekend

The blade ain't tucked away until everybody is leakin'.'"
Once the album kicks into gear with "Jimmy Stewart", Godemis quickly gives you a status update: "We've come a long way and this rap shit's finally starting to pan out, but guess what? Nothing's going to slow down my will to lyrically annihilate all you whack motherfuckers."
"They don't see me though, what have we become?

When I'm on the road, I don't see my son."
Ubi lays down the personal price he pays for a life that everyone seems to want, but can't realize the drawbacks that the life entail. You want to get where CES Cru is at? You better sacrifice.
"You? You got a better chance at winning the sweepstakes

Me? I'm playing chicken with a comet in deep space."
In one of his many examples of painting an awesome, surrealistic picture with words, Godemis draws comparison between himself and a hater.
"Let the song play and yes I'm read' to bone

Sexing, weapon stretching, pressin' 'til ya epinephrine gone."
Tech N9ne has you going to google for this one with his succinct biochemical reference that he sneaks in while describing a seemingly never-ending bone sesh.
"New friend trying' to slide up on the team back off,

There's not a titty that round, nor a weed that strong."
Ubi dismisses thirst with a quickness in his scathing solo track, warning that nothing will spoil the sanctity of his inner circle, not even the sweetest of fringe benefits that come with rap celebrity.
"Maaaan I'm bored out of my fucking mind with these fat asses and fast food

Fake beefs and rap crews, snapbacks and tattoos."
When an artform gets reduced into a predictable machine of trends and fads you can catch a real emcee not really fucking with it. Enter Godemis, who does have tattoos and wears snapbacks, but is and always will be way more than whatever he's wearing, and easily sees through a lot of the bullshit that compose the current-day rap game.
"Chess game, either take the queen, or play the pawn

May your kindness be taken for weakness or played upon, checkmate."
Brilliant rhyme schemes, imagery and symbolism combine to describe the sometimes devastating effects that come from the game of love.
"Jason Deevil, define his rhyming illegal

While he's taking warning shots at the eye of an Iron Eagle."
Another stunning example of Godemis's surrealistic imagery in a song full of quotables as Godi describes his skill as one with the utmost deadly precision.
"Bottled your instinct and slept on intuition

The reason I Stevie Wondered about your depth of inner vision."

– Ubiquitous "Hope"
A great double-entendre that references Stevie Wonder's classic album Innervisions while addressing the lost mind of a troubled friend.
"The prettiest in pink I think you stuck on that Cam'ron

With orange mocha Frappucino and a manpon…bitch!"
Godemis's closes his verse on "Give It To Me" by calling someone a bitch in the most hilarious of ways, referencing Cam'ron's affinity for pink clothing in the process.
"Ball when I strike, hits and runs, put em out in the field raw deal

My flows are frozen, ya'll chill. You don't know what, I'm Holden Caulfield…catch!"
Ubi slips in a literary reference to that book that you and everyone else had to read in high school, Catcher in the Rye, and somehow slips it into an extended baseball metaphor.
"Slap the fuck out the deacon, he reaching for that book

Set the pages to flame, your lord is a lame, look."
Shocking and dismissive, Godemis rejects organized religion in the most heinous of ways and shows no sign of regret, making his stance on Christianity abundantly clear. Whether or not you agree with his attitude, you have to admire his conviction and the brutally efficient way he's able to convey it.
"Let me explain, got a sick brain, I was born nuts

Now who's the master? Sho nuff! Ask 'Ye, yo it ain't no hold up."
A hilarious reference to Kanye West's eventful 2013 which might go down in hip hop as The Year Kanye Done Lost His Mind. While breaking new barriers with Yeezus and challenging the entire fashion industry, it seemed that everyone was asking themselves "Has Kanye gone crazy?" Ubiquitous slyly drops this reference following a statement that he is indeed insane, providing a witty and thematic thread that ties the couplet together (In case you haven't figured it out by now, these guys are on some other shit).
"Wouldn't bother teasing, baby girl ain't tryna play with ya

Six minutes, it's on and I got seven words to say to ya."
Another line in Godi's debaucherous verse from the album's reggae-infused party track. Here he tells the club female that he's got not time for games by cleverly referencing his own track "6 Minits" (The Deevil) as well as Tech N9ne's "Seven Words" (Killer). If you don't know what the seven words are then you ought to do some research and catch up.
CLICK

HERE

TO PURCHASE
CODENAME: EGO STRIPPER ON iTUNES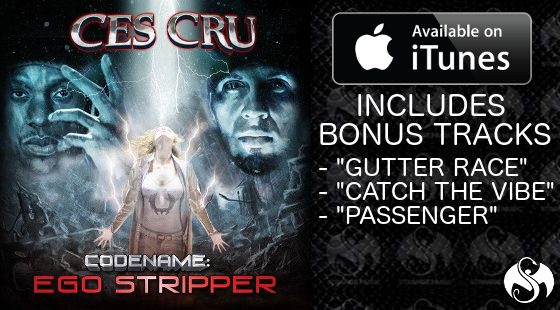 What's YOUR favorite line from Codename: Ego Stripper?
Let us know in the comments section below!