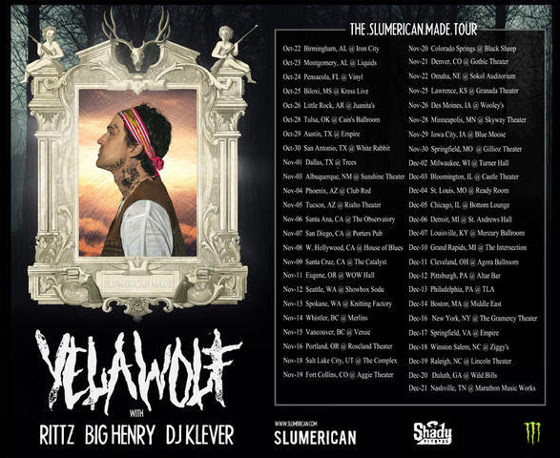 A tour for Slumerica, of Slumerica and by Slumerica. Yelawolf presents the The Slumerican Made Tour featuring Rittz, Big Henry, and DJ Klever.
The Slumerican Made Tour runs from October 22 to December 21 and will be appearing nationwide in a city near you! Rittz will undoubtedly be performing material from his new album Next To Nothing and all of his classics, making this a tour you won't want to miss. Oh yeah, did we mention Yelawolf is the headliner? Get your tickets now before this thing sells out.
Check out the dates below.
10/22 – Birmingham, AL – Iron City
10/23 – Montgomery, AL – Liquids
10/24 – Pensacola, FL – Vinyl Music Hall
10/26 – Little Rock, AR – Juanita's
10/28 – Tulsa, OK – Cain's Ballroom
10/29 – Austin, TX – Empire Control Room & Garage
10/30 – San Antonio, TX – White Rabbit San Antonio
11/1 – Dallas, TX – Trees
11/3 – Albuquerque, NM – Sunshine Theater
11/4 – Tempe, AZ – Club Red / Red Owl –
11/4 – Mesa, AZ – Club Red – East Theater
11/5 – Tucson, AZ – Rialto Theatre
11/6 – Santa Ana, CA – The Observatory
11/7 – La Jolla, CA – Porter's Pub
11/8 – West Hollywood, CA – House of Blues Sunset Strip
11/9 – Santa Cruz, CA – The Catalyst
11/11 – Eugene, OR – WOW Hall
11/12 – Seattle, WA – The Showbox
11/13 – Spokane, WA – Knitting Factory Concert House
11/15 – Vancouver, BC – Venue
11/16 – Portland, OR – Roseland Theater
11/18 – Salt Lake City, UT – The Complex
11/19 – Fort Collins, CO – Aggie Theatre
11/20 – Colorado Springs, CO – Black Sheep
11/21 – Englewood, CO – Gothic Theatre
11/22 – Omaha, NE – Sokol Auditorium
11/25 – Lawrence, KS – Granada Theatre
11/26 – Des Moines, IA – Wooly's
11/28 – Minneapolis, MN – Skyway Theatre
11/29 – Iowa City, IA – Blue Moose Tap House
11/30 – Springfield, MO – Gillioz Theatre
12/2 – Milwaukee, WI – Turner Hall Ballroom
12/3 – Bloomington, IL – Castle Theatre
12/4 – St. Louis, MO – The Ready Room
12/5 – Chicago, IL – Bottom Lounge
12/6 – Detroit, MI – St. Andrew's Hall
12/7 – Louisville, KY – Mercury Ballroom
12/10 – Grand Rapids, MI – Intersection
12/11 – Cleveland, OH – Agora Theatre & Ballroom
12/12 – Pittsburgh, PA – Altar Bar
12/13 – Philadelphia, PA – Theater of the Living Arts
12/14 – Cambridge, MA – The Middle East Downstairs
12/16 – New York, NY – Gramercy Theatre
12/17 – Springfield, VA – Empire Theatre Springfield
12/18 – Winston-Salem, NC – Ziggy's
12/19 – Raleigh, NC – Lincoln Theatre
12/20 – Duluth, GA – Wild Bill's
12/21 – Nashville, TN – Anthem
CLICK

HERE

FOR TICKETS