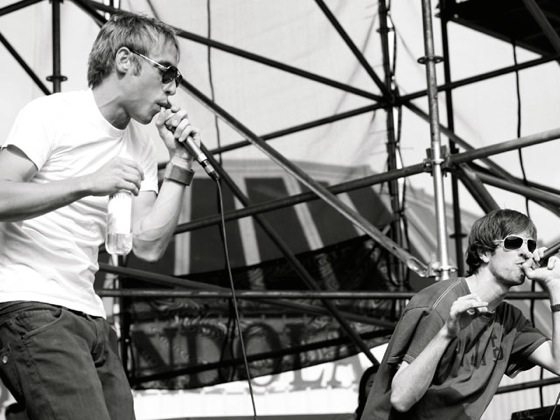 Tech N9ne is soon making his return to the Great White North but not without a stellar supporting cast of openers that are sure to help him make this Canadian Tour the best one yet.
We interviewed one of the special guests to hold down the opening spot, Animal Nation, to get an idea of what their sound is all about and why they decided to hop on the tour with Tech. The food-and-fun-loving, talented duo of Amradillo Slim and Tall Man obliged us with an interview which we're happy to share with you.
Tell us about Animal Nation. When did it form, what have you guys been up to and what's the goal?
Animal Nation formed in 2006. We were horrible rappers and beat makers for the first six years. Now our stuff is awesome. The goal of Animal Nation has always been to meet and hang out with as many rad people as possible. We love meeting new people and everywhere we travel there are always unique people to hang out with.
How would you describe your music to someone who's never heard it before?
Our music sounds like a combination of De La Soul, Eyedea, and Ugly Duckling. It sounds like happy hip-hop about serious things, not-so-serious things, and sometimes food.
What would you say are your five most quintessential tracks?
Our best tracks are probably all on our latest release – Don't Grow Up To Be Like Us.
Our latest video "Headphones, Drum Machines, Beats" also came out really well.
What made you want to open for Tech N9ne in this Canada run?
Tech N9ne has a reputation for having one of the most hype live shows in all of hip-hop. We wanted to travel with the circus, watch the show, and see the inner-workings of the whole thing first hand. Tech has fans from all walks of life. We want to meet and hang out with the true locals that are down to tell us some real things. I want to know Calgary's dirty little secrets.
How do you feel about being an opener for Tech N9ne?
Opening for Tech is exciting, man. Getting on stage and singing our songs is what we do. It's always exciting to do it, but to open for someone so great at what they do, so highly regarded by fans and critics alike, that's a whole new level of exciting. We're stoked. I didn't sleep on the night we got the tour confirmation. It's like Christmas Eve every day.
Have you been a fan of Tech? Why?
It's impossible to not be a fan of Tech. My favorite thing in hip-hop has always been the lyrics, so when you take someone so technically talented that also has great and relatable lyrics it's win-win.
What are some of your favorite Tech songs?
Some of my favourite Tech songs are "Awkward", "I'm Not a Saint", "Caribou Lou", "Happy Ending", "Fragile"…there are way too many good ones. Those are just off the top of my head.
What's Tech's reputation in Canada?
Tech is in a cool spot where he could walk down the main streets and go unnoticed and then announce he's doing a show and sell it out in minutes. Tech's fans all have 20 of his shirts and all of his CDs. He's got the best fans in the world: Canada, US, worldwide. All the Tech fans I know are just awesome people.
Describe your live show. What can fans look forward to who see you open up for Tech?
Our live show is tons of fun. We have loads of energy. We chat with the crowd. We have fun songs and bring in unusual elements to change things up a little. We rock harmonicas, turntables, drum machines, and the occasional guitar – all live. We also give out free hugs after our sets – free, sweaty, gross hugs.
Anything you want to say before we close this out?
We've got new albums in the works. Check out EveryDayInTheLife.com. It's good to be us.
LIKE ANIMAL NATION ON FACEBOOK
FOLLOW ANIMAL NATION ON TWITTER
CLICK

HERE

FOR DATES AND VIP PACKAGES TO
TECH N9NE'S STRANGEULATION CANADIAN TOUR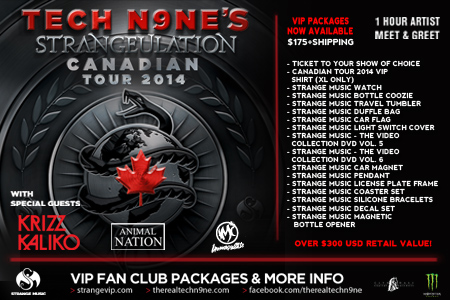 What do you think of Animal Nation?
Leave your thoughts in the comments section below.