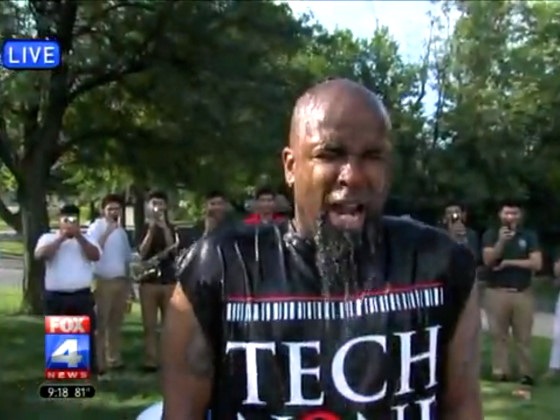 Tech N9ne took the ALS ice bucket challenge to a whole new level live on Fox 4 KC.
Unless you've been living in a cave for the last few weeks, no doubt you've heard about the Ice Bucket Challenge to raise awareness for Lou Gherig's Disease. Undoubtedly one of the greatest viral campaigns of all time, it's basically taken over social media and has been nearly unavoidable.
Tech N9ne got his challenge from E-40, Mark Alford and you, the Technicians worldwide, and took all three challenges at once live on Fox 4 KC. In the process Tech challenged probably the most random series of names so far: Ice Cube, Minister Louis Farrakhan and Stevie Wonder.
But Tech didn't stop there, watch what happens after he takes the ice buckets, as Tech N9ne raised the bar and earns the nomination for Best Ice Challenge Ever.
WATCH
What was your favorite part of the video?
Leave your thoughts in the comments section below.