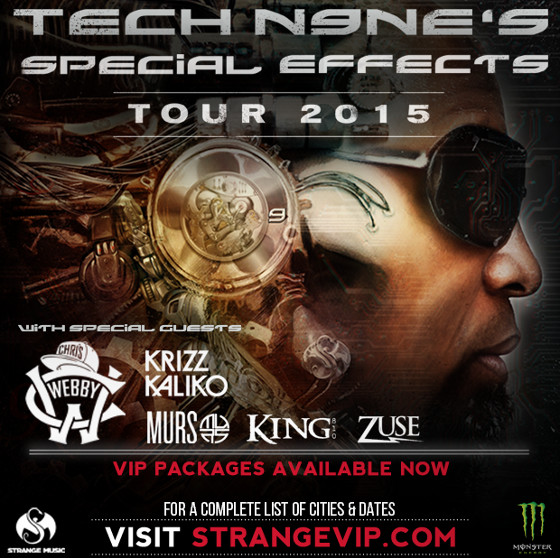 Prepare for another massive year of touring for Tech N9ne!
The Kansas City rapper will be heading out on Tech N9ne's Special Effects Tour 2015 this Spring. Tech will be joined by indie-rap mainstay Chris Webby, along with label mates Krizz Kaliko and MURS, Flint, Michigan's King 810 and Jamaican rap-phenom, ZUSE.
Get your VIP Package and tickets now!
VIP packages include
Special Effects Tour 2015 VIP T-Shirt (XL Only)
Strange Music Backpack
Strange Music Jeweled Ring
Strange Music Ladies Bling Pendant
Strange Music Resin Necklace
Strange Music Soccer Scarf
Strange Music Stainless Steel Logo Bracelet
Strange Music Sunglasses with Case
Strange Music Video Collection DVD Vol. 7
Strange Music Video Collection DVD Vol. 8
Tech N9ne Canvas Print
CLICK HERE FOR TICKETS AND VIP PACKAGES
MORE DATES ARE BEING ADDED DAILY TO THE TOUR
SO KEEP LOOKING OUT FOR YOUR CITY AT STRANGEVIP.COM!