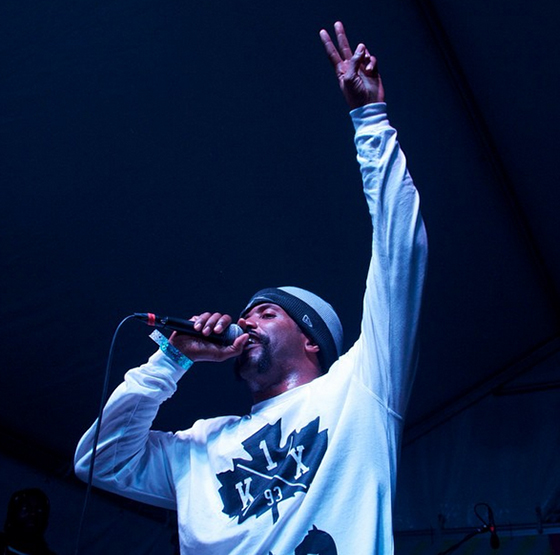 Along with Tech N9ne, Chris Webby, Zuse and King 810, MURS is about to embark on the hip hop tour of the summer with The Special Effects Tour.
We caught up with the elusive and deadly emcee to get caught up on what to expect from him on what's sure to be Strange Music's biggest and most successful tour yet. MURS was able to break down his set, catching up with his newfound friends on the road, and much more.
Are you excited to go out on this tour? This Special Effects Tour?
I'm definitely looking forward to it. It's my first time going out on a Tech N9ne tour as a Strange artist, but it's my third Strange tour, so I have a lot of friends to visit. All the dope VIP and non-VIP Strange fans that come out and say hi. It's going to be good.
How has your relationship with the fans grown since you've been signed and as you've gone out on tour? Are they getting to know you as an artist?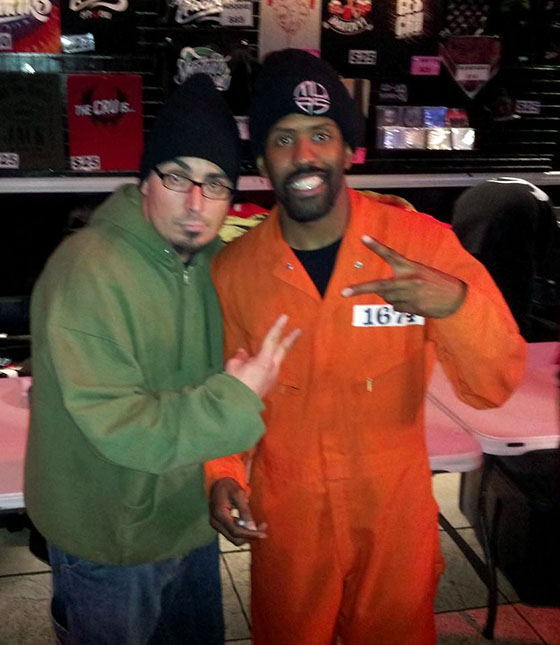 Yeah, I think a lot of them are getting to know some of my music. At the meet and greets especially I get to know them as people. Even people who don't come in the show, like the Local Clown Crew in Indiana that came out and made Faygo dogs for us – we got to hang out in the cold with them and eat hot dogs and get to know them – I'm looking forward to seeing them. There's so many people, from soundmen to Juggalos to Technicians to new MURS fans. Hopefully, I get to make some new fans and convince them to pre-order or buy my album, depending on the date.
Are you going to be performing any of the songs from the new album out on the road?
Fuck yeah! What do you think, I'm stupid bro? Of course!
I fucking hope so dude. I don't go out just to hear a bunch of old shit.
Yeah that old, boom-bap, backpacker shit…no man! I'm coming with that new! I'm "The Strangest" bro!
How do you think the new stuff's going to play out on stage? I think pretty well, especially with how big it sounds.
Yeah. I'm working with Ben (Cybulsky, Strange Music's in-house engineer) to make sure it sounds extra-special. I did a couple of the songs at SXSW. They seemed to go over well with non-Strange Music fans. I know Strange Music fans will be ready for it.
You have a ton of experience being on the road and doing shows. What's different about Strange Music fans than what you're usually used to?
Well, first of all, they're spoiled – in a good way – because they're regularly seeing one of the best, if not the best, live performer in the world. So you always have to bring your A-game. When they say they liked your show, it means a lot to me, because they know what a good show is. It also gives me a lot of energy, because I know they're going to give a lot of energy, because they know how to have a good time.
You went out on the Sickology Tour. What do you remember from that tour and what did you take from that experience?
A hernia. A scar for the rest of my life and a pocket full of money: Travis's money and Tech's money. Yeah, that's about it. Some good times with my buddies and my friends on the tour, but mostly I took home a newfound respect for Tech N9ne. It made me a bigger fan.
I saw the shows, like 70 or 80 times. I want him to do the same exact set now. I want him to perform for three hours every night because there were so many songs I want to hear him do. I want to hear the new stuff, all the stuff that's come out since Sickology, but I want to see the same exact set up as Sickology. It would probably be three hours if I had my druthers so to speak.
No doubt. So what's it about –
Don't "no doubt" me motherfucker.
For sure.
Okay, cool.
Word. What's different about touring with Strange than the other tours that you've done? What are the main pros?
I'm working with a bunch of pros, that's the pros. I'm spitting my prose for, and with, a bunch of pros and that's a pro. You get it?
Totally.
Whooooo! Everytime I talk to you I'm exemplifying what it means to be a lyrical genius.
I don't know if you're just flexing or if I bring that out.
I think you bring it out. You're a great producer and interviewer.
Well, thank you very much. What do you think of this tour lineup?
I'm reading a lot of good things about Zuse. I don't know him. King 810, I don't know them. I'm looking forward to having that live music energy. Chris Webby is someone – it's funny I don't know the Chris Webby that I think most people know. I just know Chris Webby as a kid who came on the Sway show with me one morning and killed it with his performance. He had bars and I was like "Wow, this kid is dope." Apparently he's also high energy party music as well which I look forward to seeing. He's actually one of the few rappers I met briefly but actually stays in touch to say "Hey, what's up?" So it's going to be good to like, really get to kick it with him and get to know him.
Anything you want to say about the tour before you go?
I'm just hoping that Samuel, a.k.a. Krizz Kaliko, keeps his bunk clean and keeps his behind clean and maintains himself. Cleanliness is next to Godliness.
Are you looking forward to MURS's set on the Special Effects Tour?
What songs do you want him to perform live?
Leave your thoughts in the comments section below.
CLICK HERE FOR TICKETS AND VIP PACKAGES