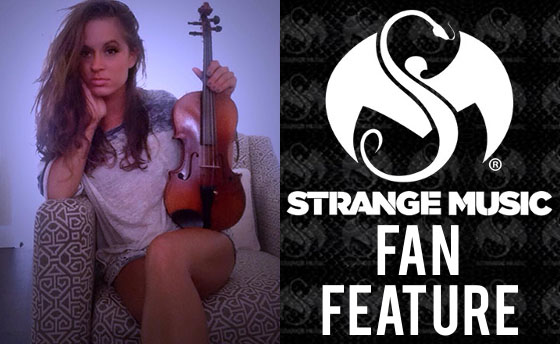 Since the young age of three, Ash Myers could often be seen with a violin (or a makeshift violin) in her hands. No one, not even herself, could have anticipated that her prodigious musical talents would transfer to the vibrant world of hip hop. Many years after her initial encounter with the classical instrument, we're able to witness a musical fusion that has many emcees, producers, and fans very interested in her abilities.
As a self-proclaimed "hip hop violinist," the vivacious personality of Ash Myers is exemplified in her music through her use of lively and innovative renditions of popular songs. However, as is the case with many violinists, her musical foundation lies in classical music.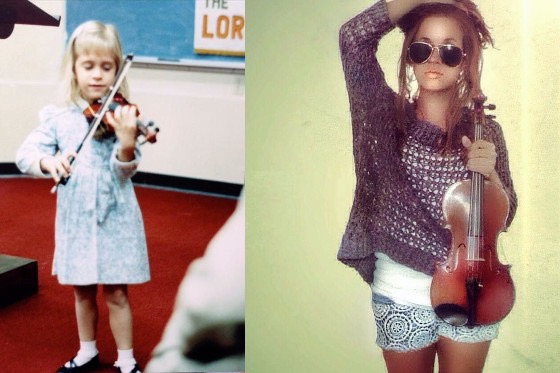 "That's where it all begun. They got me a tiny violin. I grew up playing classically and I was one of those freaks –I just picked it up. I just loved it.

I started touring and stuff like that when I was 11. This is all classical still – practicing 4 to 5 hours a day kind of deal.

After 15 years I got a little classical'd out and wanted to…I looked around and I was like 'Why are no violinists playing modern music? It's always classical.' So that's what I started on. That's where it originated I guess you could say."
It was only recently that Ash made the jump into hip hop. As she explains:
"I started with hip hop pretty much about a year ago. I had a roommate and I was playing some hip hop song. I can't remember what it was, it was 50 Cent or something like that. I was just in the room playing over it and he heard it and he was like 'Dude, that actually kind of sounds dope! You should make a video or something!' I was like 'Yeah right, no one's going to watch that.'

After awhile I did and people actually liked it. I think I did Rihanna 'Diamonds' and some other things."
Whereas some artists approach their voice as an instrument, Ash has an approach to her instrument that turns it into a voice. It's easy to see why the violin quickly became the most often used in classical music, as its ability to evoke the emotions that parallel the human spirit is unrivaled. Upon listening to Ash's cover of Rihanna's "Diamonds", the message still shines through even though the words of the song are absent.
As Ash started to dabble in rap music, other emcees took notice. One of them being Strange Music's very own Stevie Stone. The St. Louis emcee reached out to the fellow Lou native and asked if she would do a cover of the violin-tinged "Midwest Explosion" featuring Tech N9ne. Ash was more than happy to oblige and absolutely killed it.
https://www.youtube.com/watch?v=OgWcX04ODSA
Shortly after her collaborations with Stevie and other St. Louis emcees and producers (including Nellyville producers Jayson "Koko" Bridges and JayE Epperson"), Ash made the move to Atlanta. It was in this hip hop hotbed that she met famed producer Drumma Boy, whom she now often works with. "Drumma Boy's my dude," she muses about the producer of Tech N9ne's "Colorado" and many hits for the likes of Chris Brown, 2 Chainz, Lil Wayne, and too many more to list.
Upon seeing this amazing piece of violin freestyling, we couldn't help but reach out to Ash to see if she would want to lay something down over Tech N9ne's intro from Special Effects, the orchestral and haunting "Aw Yeah (interVENTion)". The dexterity in which she switches between musical functions with her instrument is pretty staggering: bass notes, melody, and vocal interplay are all effortlessly covered in a seamless violin overlay. The end result is an astounding addition to an already amazing song.
Currently, Ashley is seeking to move to the city of dreams, Los Angeles, California, where she'll have her work cut out for her. Having already connected with a major label for studio work, she'll be busy fusing her talents with songwriters and producers in the music business capital of the world. To Ash, there's nothing better than this act of collaboration, which turns into a conversation just as much as it is a work session.
"For me, personally, it's one of the best things in life. Just two days ago, I walked in a studio and the only person I know is Drumma Boy, right? I walk in the studio, there's ten people, and none of us know each other. We just whip out our instruments, and listened to some rapper and this, that, and the other, and none of us knowing each other can sit there and communicate for two hours, seven hours straight without saying a word. That's what it's all about, and that's what I love."
Ash is currently working on her debut album, currently in negotiations and with talks of Drumma Boy having a hand in the production. It's set to be released in the summer of fall of 2015 so be on the look out!
Follow Ash Myers on Twitter: @its_ash_myers
Like Ash Myers on Facebook/AshMyersMusic
What do you think about Ash's music?
Leave your thoughts in the comments section below!