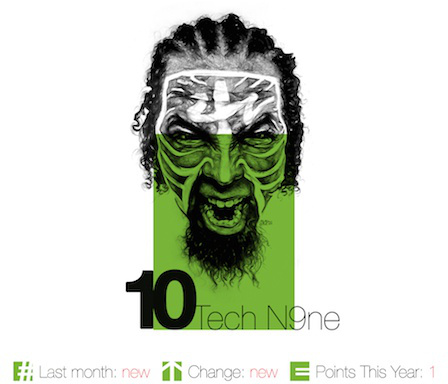 With a new album and tour on the horizon, Tech N9ne is looking to kill it in 2015 in no small way.
DJBooth and Green Label have taken notice, placing Tech in their Power Rankings for February 2015. The Green Label Power Rankings are a ranking of the "ten artists making the most powerful moves" of each month.
Tech finds himself in the elite company of artists such as Kendrick Lamar, Kanye West, Chance The Rapper, Drake, Big Sean and more.
Peep:
If you don't know who Tech N9ne is, you need to get schooled. Now. Tech is a fiercely independent rapper, but he's done more on his own than most rappers with major labels behind them. We're talking about number-one albums and a tour schedule that puts him near the top of the Forbes list.

In February, Tech started to get his Strange Music machine rolling again with the release of two songs, "Dyin' Flyin'," and "Hood Go Crazy," both of which teased his upcoming album, Special Effects. That project is due to drop in May, and when it does, don't be surprised to see it at the top of the Billboard charts—and Tech creeping towards the top of the Green Label Rap Power Rankings.

Go ahead and doubt him; he's been schooling doubters for years already. If (when) Tech's takeover does happen, you'll be able to look at your friends and say, "Yeah, I've known about him for a minute." You're welcome.
CLICK HERE TO READ THE ENTIRE LIST
What do you think of Tech's ranking?
Leave your thoughts in the comments section below.
CLICK HERE TO PRE-ORDER SPECIAL EFFECTS