Aside from a few features and his relentless touring (which is a feat in and of itself), Stevie Stone has been relatively quiet since the release of his 2013 album 2 Birds 1 Stone…but all that is about to change.
Stevie recently announced his fourth project on Strange Music, Malta Bend, due out at the end of June, and from what we've heard so far, you're about to have your mind blown.
Before Stevie headed out for The Choices Tour with E-40, we caught up with the nomadic hustle machine himself about the meaning behind his new album, some of the themes covered in it's music, and some other exciting tidbits for fans to look forward to.
Check out the full interview below, and pre-order Malta Bend, due out on June 30th!
It's been a few years since you've released an album, 2013 with 2 Birds 1 Stone, I imagine a lot has gone on in between then and now. What are some of the things that you've put into this album that you've experienced since the release of 2 Birds, 1 Stone?
Actually, the two years that I've been off, first of all there's been a lot of digesting and trying to see where I wanted to go with this album. I wanted to go deep. I wanted to do a concept album, something that I've never done before – a more rounded type of project. So, that helped me really find what I wanted to do, and where I wanted to go. I took it to the roots.
That's definitely evolution for you, because you tell a lot of stories in songs and the albums always have a good flow, but there's never been a wholly conceptual feel.
Yeah, you're definitely going to get that. I'm talking about with the skits. As soon as you turn it on, there's narration. It almost feels like a movie. I've got my guy Deji LaRay, he's a Hollywood actor and director, and he came to help me write the skits and help write the narrations on it – so it's definitely a concept album. As soon as you turn it on, you'll get it. We got background music and everything. Isaac Cates came and played some beautiful pieces all throughout the album. I'm excited about it, really excited.

What does the title of the album mean?
Malta Bend is, for those who don't know, a little bitty small down right outside of Kansas City, Missouri, where my mother was born at. My father, that's where they met at, at church, at Malta Bend. It was a segregated town. It was real hard coming up and everything.
For me, if it wasn't for Malta Bend there wouldn't be me. If it wasn't for this little bitty church that my mom played the piano at and was the choir director, my father coming there on a revival to preach, at church in little bitty Malta Bend, with a population of like 2oo people, then there wouldn't be no me.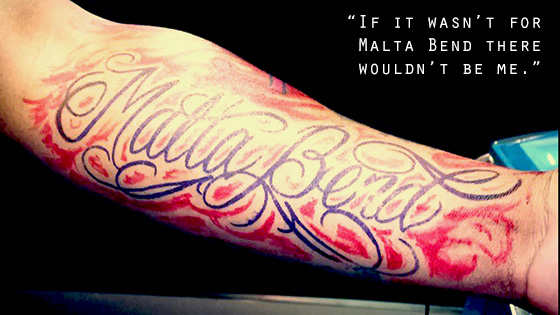 I wanted to go back, not only go back and tell that story, but also learn. I did a lot of research on my family history on this album. So, that's what I've been doing, as far as on the road and really digesting and learning where I come from, and where my people's people come from. I display it on this album.
What are some of the things that you found out in that process that you explore in this album?
When I went to Malta Bend – I actually got a chance to go down to Malta Bend with my mother, with Liquid 9, and we did a photo shoot and everything. So, just looking at the place, like right now it says there's 250 people there, but I probably seen only like 50 people there. There's no gas station, no stores, there's no nothing there. There's just field and houses, you dig what I'm saying? So, seeing where she came up from – and like I said, it was a segregated town back then. There was lower town and there was upper town. My mother lived in lower town and went to an all-black school and all that, so she was there during those days. You hear about those stories, but then to really realize that someone as close as my mother went through that, it was a learning experience. It was inspirational.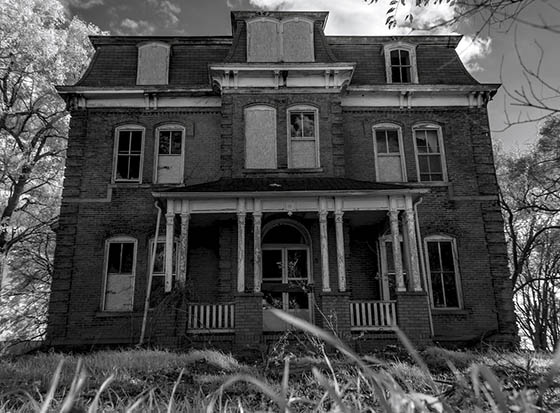 Everything you've always done has always been a progression and an evolution. How have you evolved on this album?
Maturing for one. Just maturing more as a man. Seeing more. It's been two years and we've been on the road like crazy still, touring as much as possible. For the most part, just maturing, and that's what you're supposed to do. Each project you're supposed to evolve and push yourself to the limits – even more than that, hone in on yourself and everything about you, your ways. That's what I've been doing.
As far as production, I got a good chance to work with Seven on this album, which was wonderful. He did a majority of the album. We made some beautiful music.
I actually got to go down to Miami and work with ¡MAYDAY! on the album and we made some beautiful music. County Boy Frizz and the County Boyz. I got my dude J White. RCM. There's probably 5 producers on the album, but everybody had the same tone and were in communication and we honed in on this thing– but Seven set the tone for it. Seven set the tone. He's finishing up now. I actually just wrote my last song.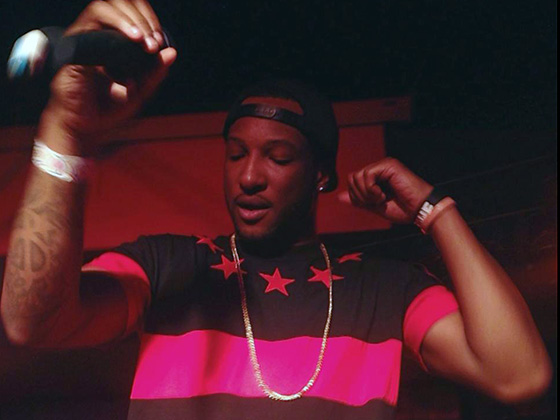 What are some new things that you're doing on this album that we haven't heard before?
We test the limits, definitely. It's just more of a story. I think that's the most different thing about it. I would like to call it a movie. When I came in and started writing it I said "It's going to be a movie." It comes from my roots, so I'm a part of this and I'm a product of this. There's some foreshadowing in this album. We did a lot of tricky things as far as the narrative goes. It's skit-oriented too. There's a music score to the whole joint so it's definitely different.
It's dope too because it feels like you had a lot more time to work on this one.
I said I didn't want to do an EP last year or a mixtape or anything. I wanted to put my best foot forward on this album and that's what we did.
Do you feel like this is your best album?
I know it's my best album. No doubt about it.
Do you think a lot of that has to do with the time you had and just how much you've grown as an artist?
Yeah, I've grown musically and have matured as a man. I'm lost in the music. When you go in and do a project, and I foun't out the title, thanks to ¡MAYDAY!, being down there with ¡MAYDAY!, they helped me hone in on me and where it came from. When I left there and came back here and started working with Seven, that's when I knew that the album was going to be called Malta Bend.
You always bring big sounds and a lot of energy to your records. I assume we can anticipate more of that on this record.
Of course, but even more than that though. There's a lot of soul on it. I'm blessed to have Ordained, the choir Ordained, to come in with Isaac Cates, to have them come in and sing beautiful church-feeling records on here. It's way different man. It's way different. I love it. It's bigger and it's better than anything I've ever done.

You were able to work with Seven this go around. You've been on the label for a minute, but for whatever reason you guys haven't been able to get it in until now. What was it like to work with him on this record?
Working with Seven was everything. Seven set the tone for the whole album. The first three records that he did set the tone and set the sound. No matter what producer that I mess with, it's got to have "this" tone and "this" feel. It didn't matter what the subject matter was: crunk, trap, something for the ladies, it had to have a certain feel, and Seven honed in on that early. We came together, but it was how we came together. We sat and talked and got to sit there and rap and talk about stuff. That's how that happened.
Before, me and Seven didn't get to do that. I was always in St. Louis, on the road somewhere, and he was sending me beats, not knowing what mode I was in or what I was trying to do, but this time talking with Travis, he was like "Work with Seven and see what happens" and pssh, the FIRST day, he made the title track "Malta Bend". It's the most wonderful, beautiful song ever and that was on the first day. Seven set the tone for this. He started it out. He produced over half of the project, so you know it's big.
I think I took him on a journey too. The type of album we made, he's never made before. So, it was also a project on his part as well. We came together with Ben also. He played electric guitar and acoustic on the biggest songs on the album and did a wonderful job. It was the three headed monster for a minute now, getting it done.
I want to talk about ¡MAYDAY! too. I know you and ¡MAYDAY! fuck with each other pretty heavy, but it's always been… they've been on one of your records. Was it Wrek and Bernz on "Indigo"?
Yeah, "Indigo". It was on the road.
You've been on "Forever New"
I was on "Forever New", I was on "TNT (Remix)". So we definitely always try to work with each other.
They've never produced for the Stevie Stone album. I don't think many people know the other sounds that they're able to achieve.
¡MAYDAY! is very, very talented. Everybody in the group is very talented. I was down there early in the stages on the project and working with them. Bernie has a way of bringing something else out of you and he did that – from the gate. We sat down and we talked, just like me and Seven did. We didn't come in and start making music. We came in to sit down and talk. We didn't do no music for the first hour on day one. We honed in. They're all talented, all the way down the line. Plex, Bernz, Wrek, Gio, NonMS. All of em, jacks of all trades. They do a lot of different things. The joint I did for them, I didn't know Bernie produced like that. He was actually in the production aspect of it.
Are people going to be surprised when they find out that ¡MAYDAY! produced this particular record?
No doubt about it. Frizz and PCASO were surprised that ¡MAYDAY! did it when they heard. It was like, "¡MAYDAY! did that?!" And we're close, so with people this close, we're like "WOAH." What do you think other people are gonna think?
Why do you think they're going to be surprised?
It's a joint called "Rated X", but the vibe and the feel…you know I like that thump. I feel that thump on this joint. It's crazy. I think it's gonna be a female favorite. The female favorite called "Rated X".
Tell me about some of the other producers you had on this record and what they were able to bring to the table.
County Boy Frizz, The County Boys, that's Frizz, Tom, Real, and Timmy. They brought a couple to the table. "Fall In Love With It". Frizz did "Ambition and Motivation". I believe that's it. I think "Fall In Love With It", "Ambition and Motivation", "Body Rock", yeah. There's some bangers on there, man, singles. Frizz got a single on the joint already. "Fall In Love With It". He brought that tone. Seven's got tone, but he's right next to me all the time so he peeped in a new one, and him and his boys started getting together and started producing. They did "Fall In Love With it", with the homie Young Darrein, 19-year-old kid that can sing his ass off. He's gonna shock the world. People don't even know about it. When you sing and you hear him, remember I told you so.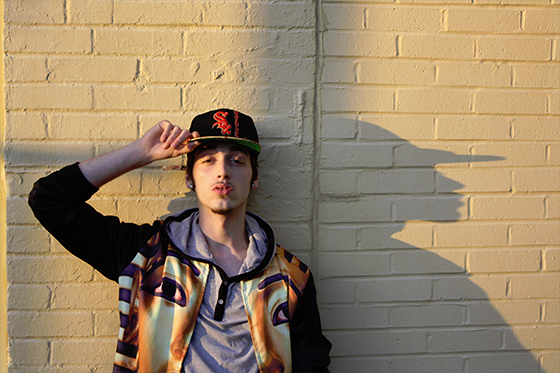 What are some of your favorite joints on the record?
Man. Of course I love "Malta Bend" and "Ambition and  Motivation". The song I finished up today, the last song, "Legacy." All those are the deeper records. Man, Tech got one on here that I love. I love the whole project, man. It's hard to say one joint. There's this joint I have called "Let's Get Fucked Up." I love them all in different moods. It depends on what mood I'm gonna be in.
What are some of the features that you've gotten so far?
I can't really speak on all of the features. I know we're waiting on a couple more to come in. But I'll say this – this'll be the most… not necessarily the most, but the dopest feature list I've had since I've been a rapper and put out any projects, period. I went kinda big and put more features on this time. We'll see what happens.
For people who've been waiting for you to drop a project and looking forward to this, what can they expect from Malta Bend?
It's a roller coaster ride. It's from our roots and the start, but I'm a product of that. So we finna party. I'm going to take you on a roller coaster ride. It's going to be a visual ride, because there's certain skits that set up certain things that put you in the mind-frame of it. As soon as you turn it on, you're gonna be in the mind-frame of Malta Bend. It's a party! It's a roller coaster ride. That's what we want to do and touch everybody. That's what this album is for and that's one of my reasons to do it: to touch a mass of people, not just certain types of people. I think we demonstrated that with everybody involved.
I know you got an appreciation for gumbo cause you got Southern roots.
Aw, yeah.
So if this album was your bowl of gumbo, what are your ingredients that make it up?
I would say…a teaspoon of truth, a cup of 808's, a teaspoon of love, teaspoon of happiness… a cup of the real shit, you dig what I'm saying? This shit's real. It's what's instilled in me. It's emotion. I can't sit there and name every single ingredient – some ingredients, I can't really tell you. Those are a few of the ingredients that I can give you. I'm anxious for everyone to hear it – I know you haven't heard it, I know a couple of guys heard it. It seems like everybody's excited saying, "Yo, this is your best work."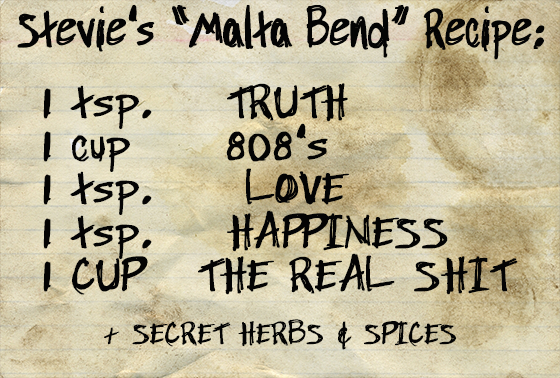 What do you want this album to do and how do you want people to remember it?
You're going to get to know me more from the South. Like I said, it's from my roots. That's what people are going to get from this. They're going to know who Stevie Stone is from this album. Where he comes from, his family, his lover, they're going to get to know all of that.
As far as what it's going to do for me, I'm being transparent. I'm giving you the real and the raw. The type of jams on this album, you will see. It's in God's hands. As far as expectations, I don't ever have any expectations. We just put our head down and go hard, and the reward will come when you least expect it.
Anything else you want to say about the record before we wrap this up?
This is the best work that I've ever done. I'm super excited about it. I'm about to go up there and finish this last record, which is called "Legacy" which I got Ordained on. It's almost like rap and church in the mix, but it feels so good in spirit. Spiritually, it feels good. It's going to be motivation and ambition, and that's the whole album. It's motivation, it's ambition…it's where my family comes from and from where I come from, and to be here, to be doing this, to be talking. You can do anything you want to do in this world. Put your mind to it, don't let nobody tell you different. That's my story. That's what I always do. I'm always talking about…I feel like the underdog and I'm trying to let everyone know, "You're sleeping on this." But the real's going to resonate. Everything on here is real – it's authentic. You're going to feel that. I just can't wait until the fans hear it and they let me know what their favorite records are.
No doubt.
Malta Bend. Stevie Stone. Strange Music all day.
CLICK HERE TO PRE-ORDER
STEVIE STONE 'MALTA BEND'!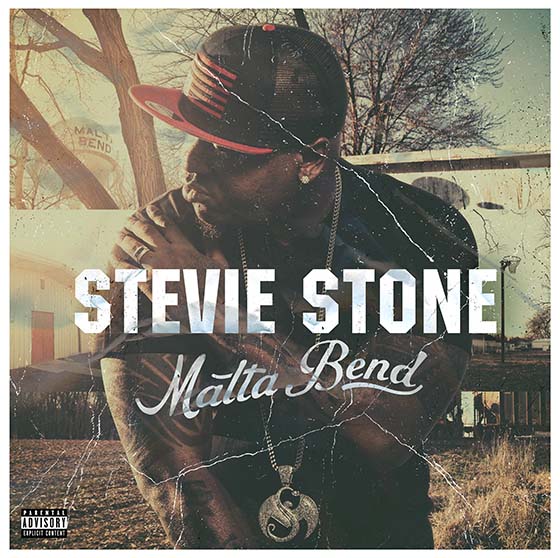 Have you pre-ordered Malta Bend yet?
What did you think of the bonus track, "Eat"? 
Will you be seeing Stevie Stone on E-40's Choices Tour? Which city?
Leave a comment below!