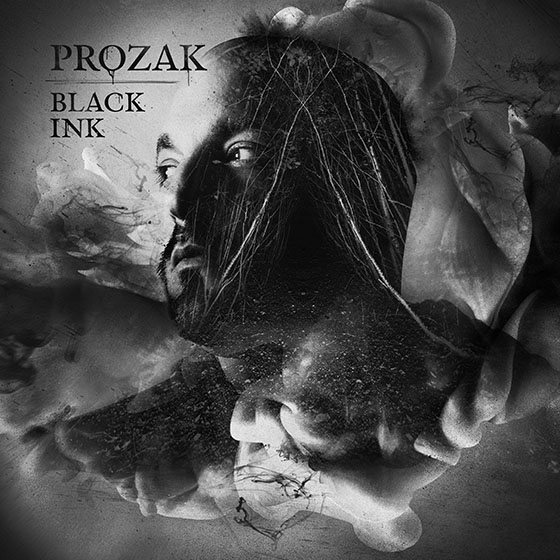 Prozak has revealed the track listing and guests for his much-anticipated new LP, Black Ink, which is set for an October 9th release date through Strange Music.
The effort will feature collaborations with labelmates, Tech N9ne, Krizz Kaliko, CES Cru, and ¡MAYDAY!, as well as tracks with Twiztid, Madchild, Blaze, UBI, and Tyler Lyon.
"With every album there is progression and a change. At the same time, I am delivering a potent dose of what my audience has come to demand from me. I think Black Ink has trace elements of my previous albums, but it's also breaking a lot of new ground," commented Prozak."The Black Ink is the blood of the misfit, the origin of those deemed too Strange for mainstream society. Though we are all bound together, we must all face the journey of life alone. Cradle to the grave, one in the same. our lives are traced unchangeably in Black Ink."
Prozak is one of the most diverse and versatile artists to emerge in the rap world. With a style that incorporates his love of both rock and hip-hop, along with socially relevant song content and consciously uplifting lyrics, Prozak is militant and anthemic with his approach to rap. Prozak has collaborated with an eclectic list of artists that range from Tech N9ne and Brotha Lynch Hung, to Sid Wilson from Grammy award winning metal outfit Slipknot, and demented hip-hop duo Twiztid. Prozak spent the last few years on the road playing shows with Tech N9ne, Machine Gun Kelly, and the Kottonmouth Kings, which allowed him to earn a devoted following.
Prozak will immediately hit the road in support of Black Ink on Twiztid's upcoming "Welcome to the Underground" tour with special guests Blaze Ya Dead Homie, Boondox, Wolfpac, and Scum.
The track listing for Prozak's Black Ink is as follows:
01 – Intro
02 – Purgatory ft. Tech N9ne & Krizz Kaliko
03 – War within ft. CES Cru
04 – Tomorrow ft. Krizz Kaliko
05 – Do you know where you are ft. Tech N9ne & Twiztid
06 – House of cards ft. Kate Rose
07 – Erased ft. Mackenzie O'Guin
08 – Killing me ft. Krizz Kalko, Blaze & R.O.C
09 – The Plague ft. Madchild & UBI
10 – My life ft. Wrekonize & Bernz
11 – Black ink ft. Mackenzie O'Guin
12 – People of the outside ft. Tyler Lyon
13 – Your Creation
Tour Dates:
9/25 – Salt Lake City, UT – The Complex
9/27 – Portland, OR – Peter's Room Theater
9/28 – Seattle, WA – El Corazon
10/01 – Phoenix, AZ – The Marquee
10/02 – Los Angeles, CA – Whiskey A Go Go
10/03 – Las Vegas, NV – LVCS
10/04 – Albuquerque, NM – Sunshine Theater
10/05 – Austin, TX – Elysium
10/06 – Houston, TX – Scout Bar
10/07 – Dallas, TX – The Rail Club
10/09 – Denver, CO – Roxy
10/10 – Denver, CO – Roxy
10/11 – Greely, CO – The Moxi
10/15 – Louisville, KY – Expo Five
10/16 – Dayton, OH – Oddbody's
10/17 – Pittsburgh,PA – Rex Theater
CLICK HERE TO PRE-ORDER BLACK INK