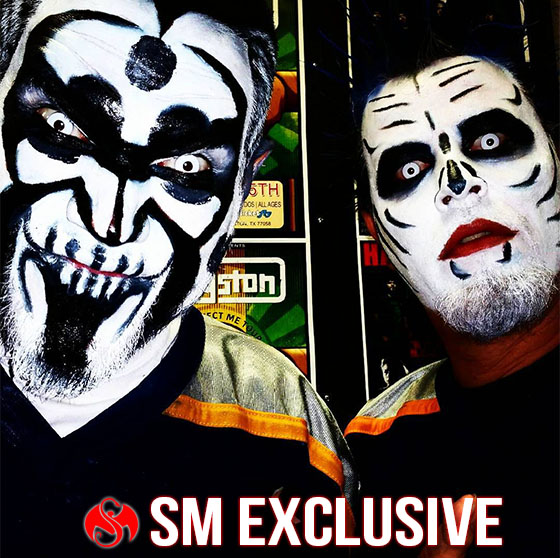 One of the most wicked duos in hip hop blesses Prozak with killer verses on his latest album Black Ink.
The close-knit bond between Twiztid and Prozak is inevitable, appearing on each other's songs and even performing on the same tour. Now, with the release of Black Ink, Twiztid makes an appearance on "Do You Know Where You Are?". The duo had a chance to speak about their relationship between the artists, the track, and what to expect in the future.
You guys and Prozak go back a little bit, how did you guys initially start doing music together?
Madrox: As far back as I can remember Prozak has always been a cool dude. He's about his craft and he respects the underground music industry, and every time we get together on a track it's an instant underground classic!
Monoxide: We all kind of come from the same place. So it's been something that's…I guess we've all ran in the same circle, but through other people, through the R.O.C., is how I really met Prozak and really got to find out about him as a dude, because we don't do a lot of features. We're just very un-trusting. He was a cool-ass dude – he's just a genuine dude. That's what I look for in a person. We've been doing this long enough that within five or six minutes, I can tell if you're just a phony-ass or you're just kissing ass, or if there's a genuine friendship that could be built, and that's kind of how it went with him, and here we are. It's been a minute.
What's your relationship been like with Strange Music as a whole?
Monoxide: It's kind of like a home away from home. I can call Travis, I can call Tech, I can call Krizz, just on some phone call shit. Like, "Hey, man, what do you think of this?" or "Have you seen this movie?" It's way past the music. That's why we cherish that kind of friendship, because it's very rare. It's kind of like our home away from home, almost.
Madrox: Strange has always showed us love! From Travis to Krizz, Tech those dudes are like family to us and we are extremely proud of them and all of their success.
How did it come to be that Prozak approached you to do this song?
Madrox: He usually texts us as we are both very busy but he's fam so we always find time to make it happen.
Monoxide: He just calls me, hits me up. He's like, "Here's the plan, want to do this, this, and this?" This one was a little harder because I told him last night, "Prozak, Steven Lavernius Shippy, I have never ever, in my 81 years of living, have been this busy." I wish I could've spent more time, I wish we had more communication, but he's like, "Motherfucker, you nailed it!" It's just one of those things, man. I'd do anything for Prozak or anybody on Strange.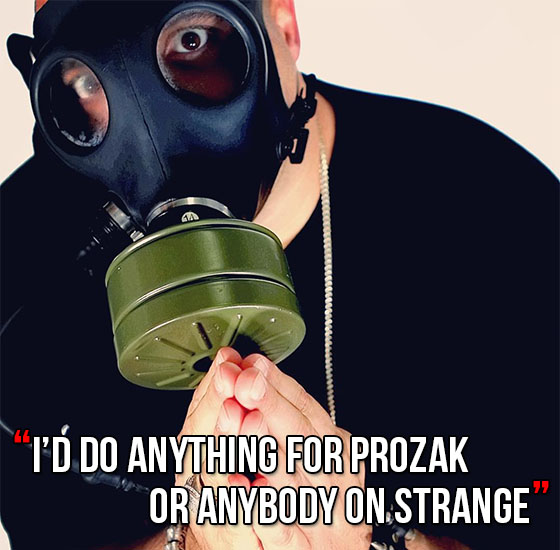 What do you think about Prozak as an artist? Like you said, you guys came up in the same circle. What kind of kinship do you guys have?
Monoxide: We spit the same, just differently. Fuckin' T.I. and Tity Boy, or everyone call, 2 Chainz. They do the same thing, just do it differently. There's a kinship there, because what we do is extremely rare and extremely unaccepted. To find somebody else that does that, you build your own crew. We had each other's backs out here because that's all we had. Everybody else does that kind of music, and us and Prozak and a handful of people that do our kind of music. We watch each other's backs. It's very brotherhood-oriented. That's every one of them.
What's this song about?
Madrox: That's more of a question for Prozak himself, but my take on it is that be careful of your surroundings when you're talking shit…know where you are.
Monoxide: To me, this song is kind-of people being in the wrong place in the wrong time. Coming into our world and not respecting that, and acting any ol' way. We kind of have to put you in your place. We spit the wicked shit, so people think we're trouble-makers, but we're not. Trouble just seems to find us.
The city of Detroit, what kind of territoriality comes into place when you're coming up in that city?
Madrox: Much like anywhere else in the planet, you learn very quickly where to and not to go and who to not fuck with.
Monoxide: Detroit is like the jungle. The worst part of the jungle you could be in. When you're raised in the jungle, you have this mentality. It's either a "pack-mentality" or an "alpha-mentality." From the time you're raised, 3, 4, 5, 6, all the way up, that by the time you become an 18 to 19-year-old rapper, you have this jungle mentality to "fuck everybody." You had to go through so much just to get where you are. Nothing is right or wrong, but that's just what it was. It was more of a cutthroat thing. Everybody climbing over everybody.
Through time, that has changed immensely. I'm not exactly sure why, but I can call a lot more people in the city now and get whatever I need than I could fucking 15 years ago. That's how you have to be raised to survive in that motherfucker. It transcends from life, to whatever business you're doing – if you're running a club, being a rapper, or running a record label, that mentality never leaves you. To this day, shit, I ain't lived in the city for almost fucking 20 years, but that mentality comes out every now and then.
Do you guys have any specific experiences that you were able to pull from to fuel your verses?
Madrox: Mainly life. We have had people, who will remain nameless, talking shit under their breath to us…and it's like, "Motherfuckers…you are a mighty long way from home right now to be so cocky."
Monoxide: No, I just love the concept. It doesn't have to necessarily have to be about one particular situation, but I just painted a picture of a situation I wouldn't want to be in.
Instances where people were a bit out of line?
Madrox: Sure, but in this business, that's an everyday thing. There will always be habitual line-crossers – the key is keeping a level head and letting them fall off.
What did you think of the production?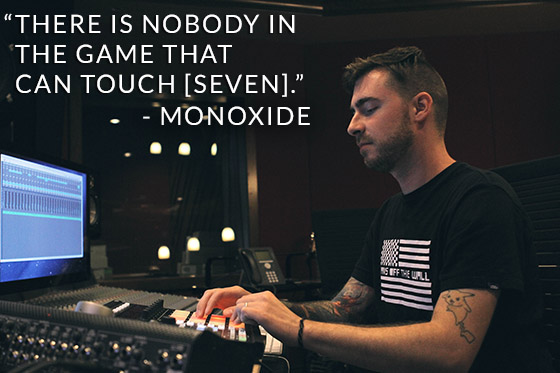 Monoxide: Michael "Seven" Summers. That motherfucker, man. [laughs] I've said it a million times. There is nobody else – nobody else in the game that can touch him. I want him to explode, but I don't want him to explode. He can do anything, anything well. Not just like, "Okay, I see." He is absolutely the most talented producer I've ever worked with. I don't even want to work with anybody else, really. He's never ever let me down, ever. I talk to Seven more than I talk to anybody else from Strange. I talk to him a lot.
Madrox: Seven always kills it. He is like the underground P Diddy, or Timbaland. What I mean is he is at the top of his game and it's always an honor to work with him.
Seven's someone that you guys have worked with a lot, why do you guys work so well together?
Madrox: I think he has the ability to tap into the artist, artists' personal vibe and make music that is a custom fit for them. That is absolutely amazing, in my opinion.
Monoxide: Because he gets it. He gets it. He finds a way to take Twiztid to the next level, and we just kind of follow him. That Abominationz record, that changed the game. That reinvented Twiztid. It modernized Twiztid. It made us current – it made us today. He has a lot to do with that. I love ya, Michael!
What do you think about the record? How do you like how it came out?
Monoxide: Ooooh, top-to-bottom, not just the song we're on, the record is really good. The first video is fan-fucking-tastic. It's like, man, if you're a lover of independent music or wicked shit or underground, grab it! Grab it! It's amazing!
What do you have in store for the near future?
Madrox: Many things, project, show etc. Blessed to keep grinding, ya know?
Monoxide: 2016 is the release of 3 artists on the record label, I think we're releasing 5 records next year and a movie. We're going to be fucking ridiculously busy, but in a good way. It's all good. It's all good exhaustion. It's good to be mentally tired like this, none of it's bad, but it's just so much.
It's got to be rewarding to be doing it on your own like that.
Monoxide: Right, just to prove to everyone that we're not bullshitting. It's not like, we just thought of this overnight. We know what the fuck we're doing. Just give us a little bit of trust and believe me. We're about to have an amazing ride and we'll see what happens.
Anything you want to say before we get out of here?
Monoxide: Yup! I do! And this is it: Tech N9ne, Krizz, CES, Stevie, I love you guys – Prozak – I love you guys. We're going to get together, let's go do something big! Let's go do something big next year! Be safe. All the Strange Music fans: I love you guys. You guys have turned Strange into something that I've always expected it to be. That's awesome. Congrats.
Madrox: Congrats to Prozak on his Black Ink release, make sure to pick it up! And thanks to y'all for taking the time to chop it up with us. Much, much family love, y'all!
What do you think of Twiztid's guest appearances on Strange Music records?
Which one is your favorite?
Let us know in the comments section below.
CLICK HERE TO PURCHASE BLACK INK ON iTUNES