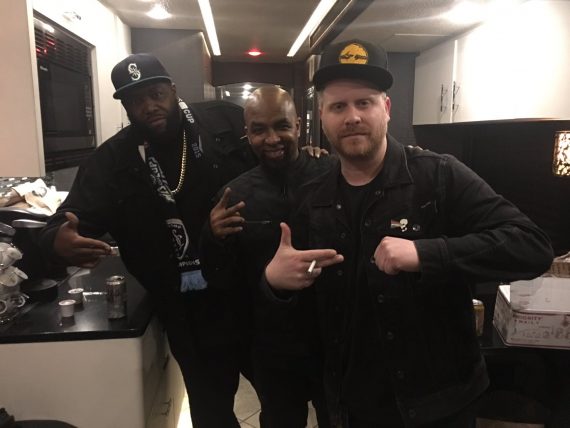 The line outside The Midland circled around Main St. in downtown Kansas City. When the doors opened, the crowd flocked in, rushing to the stage to get a good spot. A couple hours later, the lights lowered and the sold-out crowd went nuts.
The energy reached a fever pitch as the music began, and it never let up. Despite the unbridled chaos, the crowd surfing, and the mosh pits, there was a real communal atmosphere. Everyone was gathered to enjoy some sock-you-in-the-mouth, independent hip-hop.
Tech N9ne was there…but he wasn't performing. Like the other 2,999 people, Tecca Nina came to see Run The Jewels' "Run The World Tour".
Despite the packed venue, Tech's presence was not lost on Killer Mike and El-P. Two different times, they stopped and gave a shout out to Tech, paying respect for laying the independent blueprint. The show was unforgettable for everyone in attendance, including Tech.
After the show and linking up with RTJ, Tech sat down with us to talk not just about the concert, but his relationship with RTJ, and maybe, just maybe, future collaborative efforts:
"I got there and got on the bus. When El-P turned around and saw me, he had a big smile on his face like he knew exactly who I was. I was flattered, because he's a treacherous MC.

That's my first time meeting El-P, but I have been knowing Killer Mike for some years. We recorded together at Tree Sound Studios in Atlanta when I was recording "Worldwide Choppers" with Yelawolf. He played me a gang of tracks. I always knew he was talented – I was always a fan.

When I heard that he and El-P had linked up and I got to hear the music, it meshed. I never saw a show before, so when I heard that they were coming to The Midland, I had to go. I was flabbergasted, dude. They were rockin' that motherfucker. I had seen some shit online, but being there…the energy! Man! 'Lie, cheat, steal, win, come on everybody doing it!" I was partying dude. So much energy, but so lyrical too. 

I can't wait to work with them. I can't wait to tour with them…Hopefully one day"
Though entrenched as indie stalwarts for years, Tech N9ne and RTJ have yet to come together for a collaboration. However, Killer Mike did make an appearance on Big Scoob's "A.B.N", so there is precedent for a Snake & Bat and RTJ collaboration; hopefully Monday's meeting sparked future plans! The only thing more exciting than the thought of a collab is the thought of a tour, though finding a venue that can handle that energy is a whole other challenge.
You never know, though… in the world of independent hip-hop, anything is possible.
Hopefully Tech can return the favor during the Strictly Strange Tour, starting next month!
      CLICK HERE FOR TICKETS & VIP PACKAGES TO
THE STRICTLY STRANGE TOUR 2017!