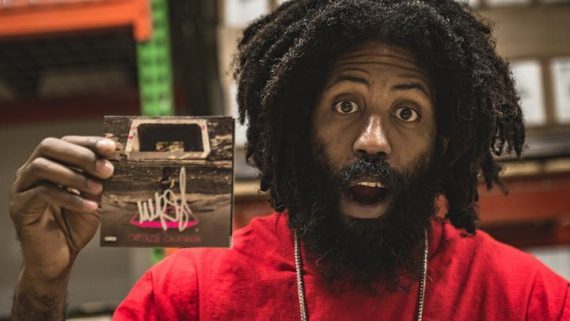 When you think of California, what comes to mind? Celebrities, Sunshine, and last, but certainly not least weed.
That being the case, it only make sense that Captain California, himself, Strange Music's own MURS, would know a thing or two about, not just weed, but what to listen to while smoking right?
Right.
It's why fellow Cali-legend Snoop Dogg would entrust MURS with the honor of taking over the MERRY JANE Spotify playlist. Strange Music fans will want to pay close attention, as MURS made sure to include Ces Cru and an effort off his own latest release.
In addition to creating the 88-song playlist,
MURS also sat down with MERRY JANE
to discuss, his latest album, and of course, Marijuana.
MERRY JANE: What is your most memorable smoking experience?

MURS: Driving around for hours hotboxing in a pickup truck after school with my best friend and our track coach. Listening to the new Doggystyle cassette on repeat. I got too high and had a bad trip. Don't even remember the album. To this day I haven't listened to it. I think I might have a flashback. All I remember is hearing the hook to "The Shiznit" over and over with my face smashed against the window wishing I could remember how to roll it down.
So roll one up and get down to the hand-crafted playlist and, when your done, be sure to give Captain California another 420 spins.
CLICK HERE TO PURCHASE
CAPTAIN CALIFORNIA ON iTUNES!