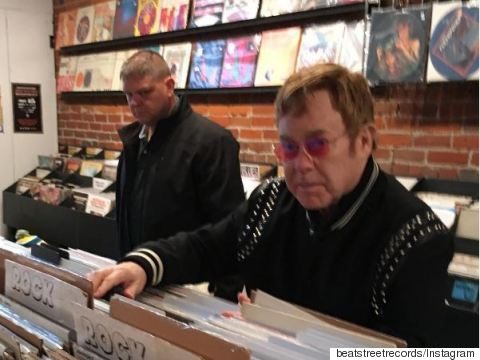 Anyone who has been on the internet ever, knows to approach anything with both optimism and steadfast skepticism. So, when this came into our mentions, we were cautiously optimistic.
Elton John is one of the most legendary recording artists ever, but he's not the first name you associate with hip-hop. Additionally, there's famous, then there is Elton John famous. So, yes, Strange was excited, but you can understand the skepticism. Once it was reported by the Canadian Broadcasting Corporation, who interviewed the record store manger, however, there was no doubt that Elton is a Technician in the making.
"He asked my boss if we had any Tech N9ne, like, the gangster rapper and I was not expecting that," Tomchyshen laughed, referring to the Kansas City-based artist. Unfortunately, Beat Street was sold out of Tech N9ne, so John settled for a stack of albums from the 1980s British pop band Scritti Politti instead.
We weren't the only ones to catch wind of the amazing request. Every publication from XXL, to HotNewHiphop, to HipHopDx, to Billboard, even Huffington Post, noticed Elton John's interest in Tech causing a ton of almost-incredulous excitement!
Everything about this story is amazing, except for the fact that Elton John left without any Tech N9ne. Luckily, Tech himself, made sure Elton John's collection won't be Strange-less much longer. In a quote, reported by the KC Star and posted to Instagram, Tech discussed how much it means to him to have Elton John's ear, as well as a plan to get him started on a Strange Music collection.
Who Does Tech Catch now? The better question is, who will Tech catch next?!
CLICK HERE FOR TICKETS & VIP PACKAGES TO
THE STRICTLY STRANGE TOUR 2017!