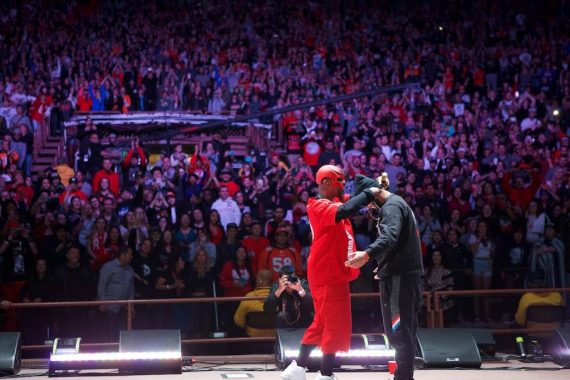 Embarking on a tour is one of the best promotional tools an artist has. What better way to to present a new album than live and in person with the palpable energy and excitement a great live show brings?
On The Calm Between The Storm Tour 2016, JL, one of Strange Music's newest faces, set out, not to introduce an album, but himself.
"It was a lot of pressure," JL admitted in a personal, candid interview. He expanded, "Strange Music makes the best music. You are behind Tech N9ne and Krizz Kaliko, Ces, Rittz, MURS, MAYDAY…everybody. These are amazing artists and people have high standards."
To put it more eloquently, he concluded, "Strange Music fans don't take no shit."
The Kansas City native may not have been presenting a new album on tour, but it's not because there was a shortage of music at his disposal.
In fact, by the time the tour began, he already had plenty of music, "As soon as I got signed, I started making music and thinking about songs. I write a lot. Sometimes, I have to write a lot to find the jewels, so I wrote a lot of songs that will never see the light of day."
Though much of that music remains in the shadows, one that has already been sun-kissed is "Strange The World."
"'Strange The World' was one I had before I knew what I wanted to do with my album as whole, but I knew from the get go that it could be the intro," he said about the The Dead Beatz & Jurd Beats-produced effort.
Not only was the effort powerful enough to become the lead track for the album, but it's power and aggressive nature was was the inspiration behind those early pre-tour sessions, "When I got in the studio that was my tone. Super passionate. Super aggressive."
Unfortunately, it was almost to his detriment, JL admitted, "I think I started doing too much of that. I was doing that a lot and it piled up."
The tour came at the perfect time. With almost an overwhelming amount of passionate, aggressive music, JL had been going in, perhaps too much, so the tour provided him the chance to, "sit on it for a second and think about it."
While he was afforded a breather, the tour was hardly a static endeavor.
"Touring opens your mind up. You get out of your little box," he stated before expanding on what getting out of that box provides.
"You find out a lot about yourself and what people think about you. You talk to people every day about what songs they like, and how they were affected by them, and what they like about me. You get to perform songs and see how they react."
He may have set out on The Calm Before The Storm Tour with the goal of introducing the fans to who he was, but it was being out on tour that made him who he is.
Getting to get out of the "box," meeting fans, testing his new music was a transformative experience for JL. A transformation he felt immediately and a transformation that altered, not just the direction of DIBKIS, but himself as an artist:
"As soon as I got off tour I felt like a different person. I wanted to take my music in a different direction.  After I started doing more songs I saw it was all there; I just had to find the flow.
I think I found my place with this album, I think when fans hear it they will appreciate the person I am. That tour was the turning point in my album;  I found my voice."
Doing it big and keeping it Strange is obviously a reference to Strange Music, but it's deeper than that, for JL it means, "being different."
DIBKIS is most definitely different.
The attitude and energy of a Strange show are woven into DIBKIS' fabric, providing a unique experience, because where most albums are presented on tour, DIBKIS was forged by it.
CLICK HERE TO PURCHASE TECH N9NE PRESENTS JL– 

DIBKIS ON iTUNES!