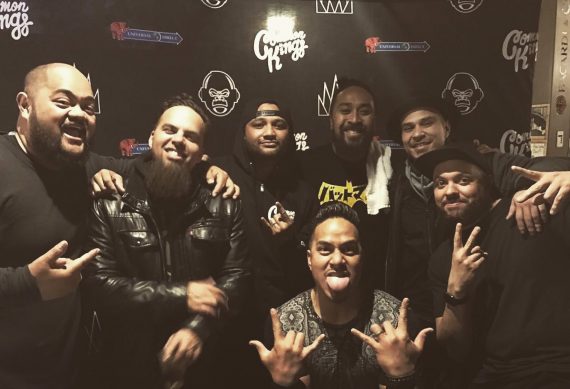 There's nothing like a ¡MAYDAY! show.
The energy, the drums, the genre-bending jams, and of course, the whiskey!
Well…a Common Kings show.
That's exactly what made 2017's Lost In Paradise Tour so awesome!
When two groups get together for a tour you never know what to expect (just ask any band that's ever toured with Guns N' Roses), but ¡MAYDAY! and Common Kings fit together like pieces of a puzzle.
From start to finish, there was never a dull moment. Both groups had an insane energy that made for a really special atmosphere, one that even translated over to Search Party for not one, but two collaborations!
To get an idea of what the tour was like and how "Pretender" and " System" came to fruition, we hopped on a call with Common Kings' lead singer, JR, and guitarist, Mata, who were more than happy to talk about the bond forged on the tour.
How'd you get connected with ¡MAYDAY! for the tour?
JR: Our managment brought us a number of acts and ¡MAYDAY! was one of 'em.
Mata: We looked them up and thought they were so dope.
JR: We thought they would gel well with us, even though it was different, it made sense; the vibe was there.
Mata: They were perfect for the tour.
Not having met them before, what was it like meeting ¡MAYDAY! and getting to know them?
Mata: It felt like we knew each other forever.
JR:The first show was in Arizona and we actually didn't get to meet them prior to them performing, but walking into the venue and watching them perform, I was already diggin' them. Their energy was up. NonMS was killin' it. Immediately, I felt a connection without even knowing them.
Then, getting to know them during the tour as artists and creatives, it made me even more happy about getting connected.
Any crazy nights on tour?
Mata: No comment. [laughs]
JR: A lot of fuzzy moments. [laughs]
Whats it like having an opener with crazy energy like ¡MAYDAY!? Does that do anything for your guys set and approach?
JR:It helps us tremendously. When they get off stage and smashed their set. The energy in the whole venue is super high. Everyone's ready for a kick ass show. It hypes us up and gets us ready. To have someone like that open is a blessing. They definitely gained all of our fans as their fans. Everybody loved it.
How did the collabs come about, were they done on the road?
Mata: About halfway into the tour, we had a good rhythm and we were talking about doing a record together. After the tour, Wrek and NonMS hit us up and asked if we would be down to do a couple records and it was second nature.  
It even lead us to music we're recording. We're planning to have them on one of our records as well.
When they sent you the two songs, what state were they in?
Mata: Wrek sent a few records that would fit the Common Kings vibe. They've never really gotten into the reggae realm, they were stepping out of their bodies…so they gave us some ideas and let us run with it. We added some Common Kings reggae elements, and were bouncing ideas back and forth, they loved it. Then Wrek, NonMS, and Bernz did their thing and the rest is history.
I can't express enough how rare it is for two groups to form this kind of bond from a tour. Even taking the time out to do an interview goes to show the connection between the two.
Despite the good quotes, despite taking the time to chat, the best example of their connection is still in the music. "Pretender" and "System" really fuse the two groups respective styles so well despite taking both groups outside of their typical styles. These two collabs– and the Common Kings, ¡MAYDAY! songs to come– are a testament to that natural connection felt from that very first show.
If you missed the Lost In Paradise Tour, you'll just have to turn up "Pretender" and "System" super loud, put your ear to the speaker and imagine it's a live show to get the full experience.
But, also, be sure to catch both groups on tour now!
¡MAYDAY!'s Search Party tour is well underway, and Common Kings is just about to hit the road with dates through the end of the year! Show them the love they've shown  ¡MAYDAY! and you'll get to catch an amazing set in the process!
CLICK HERE TO LISTEN TO SEARCH PARTY ON SPOTIFY!