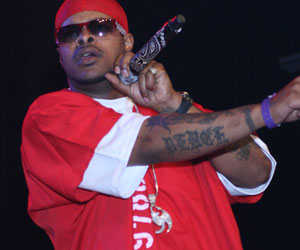 BallerStatus.com, 5/7/10: The Strange Noize Tour is set to return this summer, and headlining with be Tech N9ne protege, Kutt Calhoun, and hardcore rockband (Hed)p.e.
The two artists will serve as the headlining acts for the rock and hip-hop tour festival set to kick off in June, with supporting acts such as Big B, Johnny Richter of the Kottonmouth Kings and Slaine of La Coka Nostra.
"Carrying the flag for the Strange Noize Tour is an honor," says Jahred Gomes, frontman for American Hardcore band (Hed)pe. "We love bringing different people together. We are raised believing this country is a melting pot, and that is what this tour is all about. The youth of this country love heavy metal, they love hardcore punk, and they love hip-hop and reggae. That's what our band represents, and that's what the Strange Noize Tour represents. We are a perfect fit to headline this thing!"
"I feel very privileged and it's an honor to be hitting the road with all of these amazing artists," added Kutt Calhoun. "It's a wonderful opportunity for me to be able to get my music out to these fans and represent Strange Music alongside all of the great artists from Sub Noize."
The tour kicks off on June 21 in Colorado Springs, continuing through the end of July, making stops in Denver, Detroit, Cleveland, Ft. Lauderdale, Houston, Portland and San Francisco, with things coming to a close in Orangevale, CA.
The Strange Noize music festival began in 2007 and has become one of the summer's hottest tickets for music fans. The tour united two of America's biggest independent record labels — Suburban Noize and Strange Music — for one summer music festival that sold out over 40 dates across the country.
Headliner (Hed)p.e. is currently promoting their latest studio album, New World Orphans, and are preparing the release of Major Pain 2 Indee Freedom – The Best of (Hed)p.e, a career-spanning collection of the classic songs, that have made the group an underground force for over 13 years. It is due out June 22nd, along with a DVD that captures the band's legendary live show in surround sound.
Kutt Calhoun will be promoting his newest solo release, Raw & Un-Kutt
. As the follow up to his 2008 release Feature Presentation
, Kutt brings his straight-forward, street-conscious sound to the table.
Below are confirmed dates and stops for the Strange Noize Tour 2010:
6/21 – Colorado Springs, CO @ Black Sheep
6/22 – Denver, CO @ Marquis Theatre
6/23 – Omaha, NE @ Waiting Room
6/24 – Maplewood, MN @ The Rock
6/25 – Elgin, IL @ The Roadhouse
6/26 – Detroit, MI @ Harpo's
6/27 – Cleveland, OH @ Peabody's
6/28 – Columbus, OH @ Al Rosa Villa
6/29 – Allentown, PA @ Crocodile Rock
6/30 – Worchester, MA @ The Palladium
7/01 – West Springfield, VA @ JAXX
7/02 – Jacksonville, NC @ Hooligan's
7/03 – Fayetteville, NC @ Jester's Pub
7/04 – Goose Creek, SC @ The Dive
7/06 – Orlando, FL @ Firestone
7/08 – Jacksonville, FL @ The Pit
7/09 – Fort Lauderdale, FL @ Culture Room
7/10 – St. Petersburg, FL @ State Theatre
7/12 – Houston, TX @ Scout Bar
7/13 – Dallas, TX @ Trees
7/14 – San Antonio, TX @ Back Stage Live
7/15 – Albuquerque, NM @ Sunshine Theater
7/16 – Tucson, AZ @ Rialto Theatre
7/20 – San Francisco, CA @ Slim's
7/22 – Portland, OR @ Hawthorne Theatre
7/23 – Seattle, WA @ Studio Seven
7/24 – Spokane, WA @ Knitting Factory
7/25 – Boise, ID @ Knitting Factory
7/27 – Casper, WY @ Downtown Grill
7/28 – Salt Lake City, UT @ The Complex
7/29 – Reno, NV @ Knitting Factory
7/31 – Orangevale, CA @ The Boardwalk