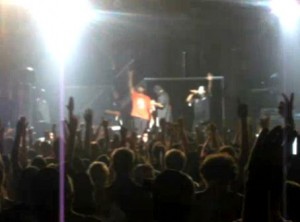 Amidst the all drama as a result of Tech's recent address to a fan on therealtechn9ne.com (and his Twitter rant not too long before that), we thought it would be good to remind everyone that beneath all the backlash, Tech is a softy for his fans.
This is a clip we found of the Independent Grind Tour's stop in Tempe, Arizona, where we had previously reported that Tech had signed the ticket for a fan that had died in her sleep the night before the show. Tech stops the show and brings the departed fan's friend on stage to sign her ticket, and goes on to thank his fans for all the wonderful support they have showered upon him since his career started more than ten years ago. Tech even hints at an upcoming tour with Snoop Dogg. Will the King of the Midwest be joining forces with the Top Dogg of the West Coast to tear up the nation? Only time will tell.
Click here or watch below.