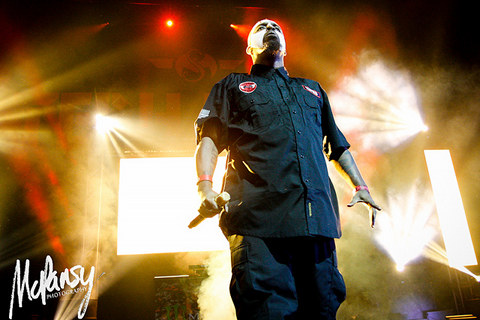 The Hostile Takeover 2012 Tour jumped off with a bang, and Tech N9ne has once again solidified his reputation as Kansas City's finest with his performance on March 24, 2012 at the Midland Theatre.
Notoriously tough critic Bill Brownlee had much praise for the show in his latest review entitled "Riot Maker: Tech N9ne In Top Form At Midland".
One of the main points of the review was not only how much bigger Tech's reach is getting, but how much younger his fans are getting as well. Bill cites that a third in the audience of 3,000-plus were teenagers, but this is undoubtedly also due to the fact that Machine Gun Kelly is on the tour as well, who has a great draw with younger audiences.
Bill Brownlee also cited the performance of Tech N9ne's "Unfair" with Krizz Kaliko and CES Cru as the evening's highlight and said that the new video-enhanced set was a "significant upgrade" over previous designs.
Click HERE to read the full review!
Click HERE for tickets and VIP Passes to Hostile Takeover 2012 in a city near you!
What did you think of the review?
What did you agree with and not agree with?
Did you see Tech N9ne in Kansas City for Hostile Takeover 2012?
Let us know in the comments section below!