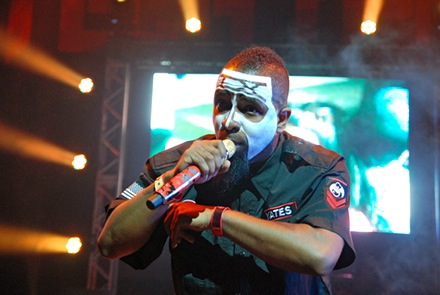 The reviews keep pouring in and the results are unanimous: Hostile Takeover 2012 is a triumph of sight, sound, energy and hip hop.
The latest review from JuggaloNews.com is of the debut Hostile Takeover 2012 show at the Midland in Kansas City, Missouri. The detailed review recounts the proceedings of the entire evening, from CES Cru's "energetic stage presence" to Tech N9ne's "battle scene" of a set and everything in between.
With the critical acclaim and the sold out status of the venue, the jump off for Hostile Takeover 2012 was a triumphant success both critically and commercially.
One thing's for certain though, it's only going to get better as it goes along.
Click here to read the full review.
Click here to get your tickets and VIP Passes for Hostile Takeover 2012!
What did you think of the review?
Did you see Hostile Takeover 2012 in Kansas City? What did you think?
Leave your thoughts in the comments section below!