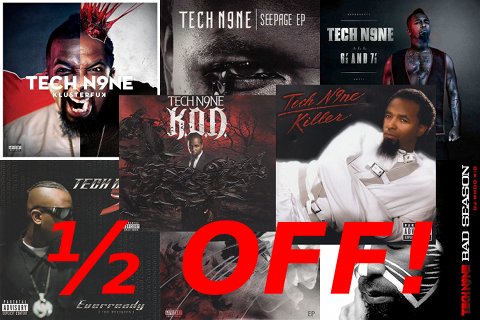 Click here to purchase your Strange Music CDs and merchandise at 50% off!
With all the Tech N9ne cd's available at 50% off, don't you think it's time that you get caught up on what you're missing?
In the meantime we put out this poll because Tech wants to know which one y'all like the best! Is it the early stuff (Everready, Killer) or his latest (All 6's and 7's, Klusterfuk)? Has Tech gotten better with time or was his best stuff in the past? There's only one way to find out…VOTE!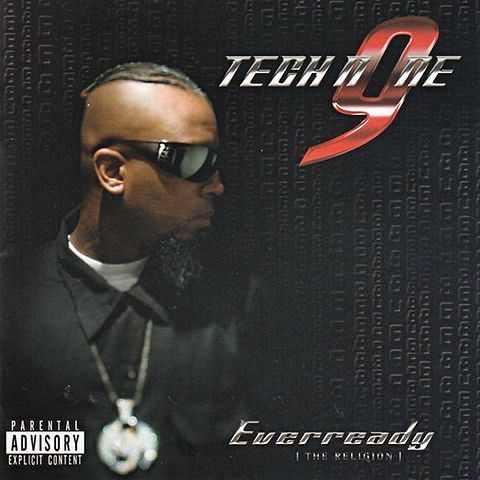 Everready $15.98 $7.99
Some (including Tech N9ne himself) have called this Tech N9ne's finest album. Who are we to argue? With songs like "Come Gangsta", "Riot Maker", "Welcome To The Midwest" and of course the gold single dedicated to the best hip-hop made drink ever made, "Caribou Lou", this is a CD that certainly demands a spot in every Technician's rotation.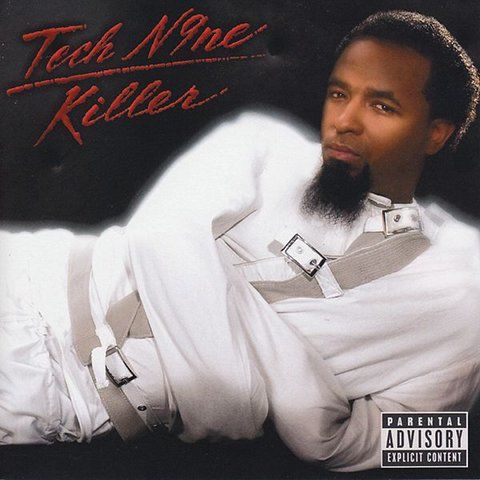 Killer $14.98 $7.99
Tech N9ne's only double album ever made, and it's for $8. How are you not going to swoop up on this? This album is full of gems: from the bangers ("Let's Go", "Like Yeah") to the sexual ("Wheaties" "Seven Words") to the dark and brooding Tech N9ne that shares his pain on his sleeve ("Happy Ending", "Last Words"), this album has it all.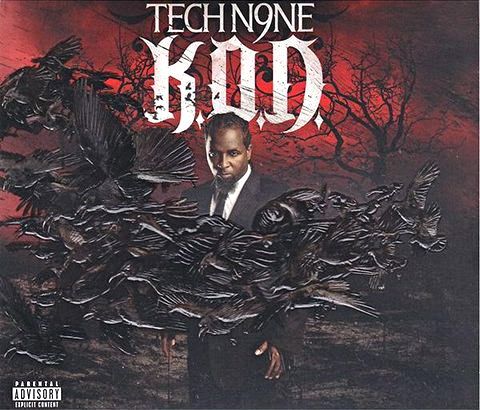 K.O.D. $15.98 $7.99
This album solidified Tech N9ne as the King Of Darkness. Riding the commercial momentum of Killer, the last thing Tech was supposed to do was make the darkest album of his career, but with his mom experiencing extreme sickness, the artist who pulls no punches had no choice. This is an album with a roller-coaster ride with a man riding on the very edges of desperation. From the thrilling "Show Me A God", to the menacing "Check Yo Temperature" and ending with the mournful "The Martini", this is arguably Tech N9ne's most cinematic and harrowing album of all time.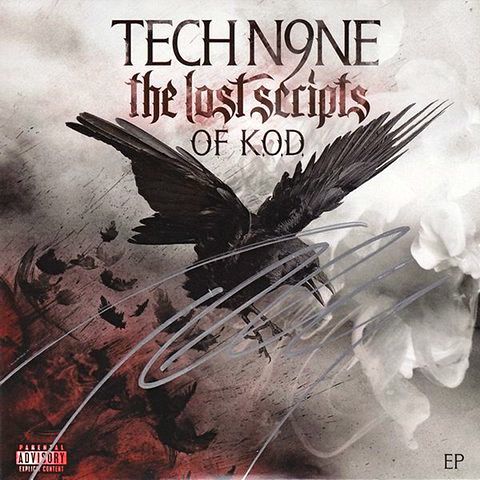 The Lost Scripts Of K.O.D. – $6.99 $3.50
The follow up to K.O.D. and Tech N9ne's first EP, this is another journey from Anger, to Madness and finally in The Hole. This EP consists of beats originally selected for K.O.D. but because Tech had already filled up the time needed to make the album, they were left alone until this follow-up EP that he promised the fans. Classics such as "009NA", "Like I Died" and "Stress Relief" make this a must-have for anybody who wants the Tech that nobody else has.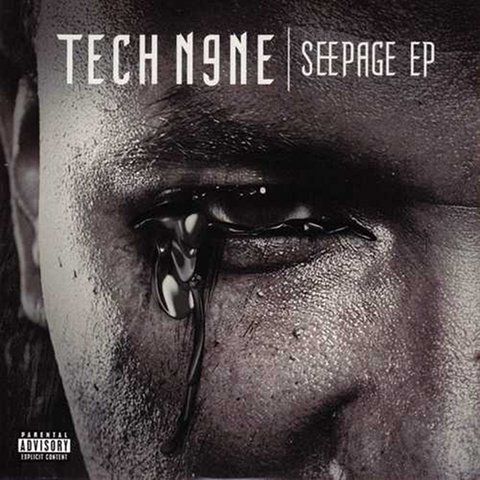 Seepage – $6.99 $3.50
Anyone who listened to The Gates Mixed Plate (not on this poll because it's a collabos album) and thought Tech lost his edge got a big middle finger with the Seepage EP. Songs like the title track (sporting one of his most ferocious flows of all-time) and "Asshole" make it known that if you thought Tech lost his dark side, you better think again.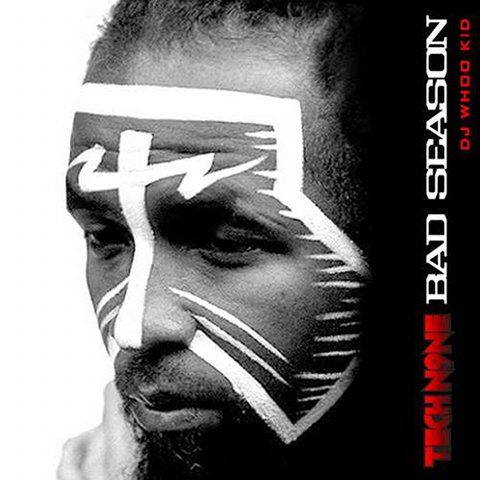 Bad Season $9.99 $5.00
With DJ Whoo Kid as the host, Tech N9ne made his mixtape debut with Bad Season, which the mixtape king (that would be Whoo Kid) himself called one of the best he's ever heard. Setting a new standard for mixtapes, you will not find one jacked beat on this release. Rather, everything is all-original featuring a different east-coast and rugged sound by producer Red Spyda. Songs like "Down For The Block" feature Jay Rock and Tech spitting verses that tear through bulletproof vests, and "Livin' Like I'm Dyin'" features CES Cru on their first-ever collaboration with Tech N9ne. Bad Season made its way to become the mixtape that the rest would have to live up to if they wanted to be relevant.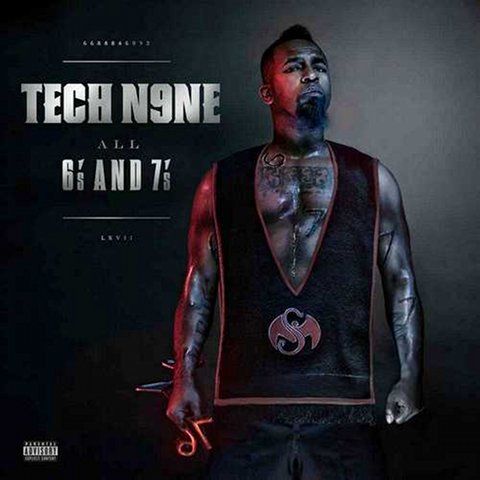 All 6's And 7's $18.98 $9.49
The album that officially made the mainstream go Tech, All 6's And 7's will forever be a breakthrough moment for Tech N9ne and Strange Music. Who else would put two of rap music's biggest stars on a song that could never make the radio? "Fuck Food" would be that song, and Lil Wayne and T-Pain would be those artists. This album also features some of Tech N9ne's biggest bangers with "Technicians" and "He's A Mental Giant". Let's not forget the ultimate choppers anthem, "Worldwide Choppers", the epic rapid-fire song that features EIGHT elite spitters (including Twista, Busta Rhymes and Yelawolf) doing their best to keep up with the emcees before them. If you don't have All 6's and 7's, where have you been?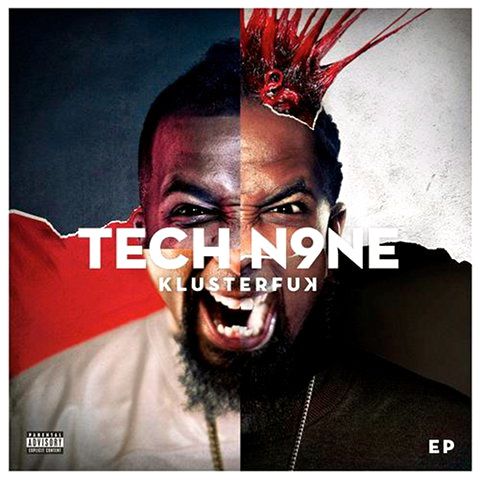 A startlingly different sound for Tech N9ne, Klusterfuk features production entirely by ¡MAYDAY! and in effect takes Tech N9ne to directions that he's never been before. The opening title song sets the psychedelic tone for the rest of the album to follow, which features Tech N9ne in storytelling mode like you've never heard: the hazy and hungover "Blur" which features Tech trying his best to recall the previous evening's party and bullshit, "Awkward" which re-tells awkward situations with an arrogant rapper and a swinger wife and husband, the thumping "Can't Stand Me" which recalls stories of Tech N9ne's youth in exotic and stylish fashion (featuring Krizz Kaliko crooning in spanish). For evidence that Tech N9ne just continues to get better and better, Klusterfuk is the latest exmample.
SO WHICH ONE IS YOUR FAV?!
VOTE
Which one did you vote for?
Explain your vote in the comments section below! Tech wants to know!