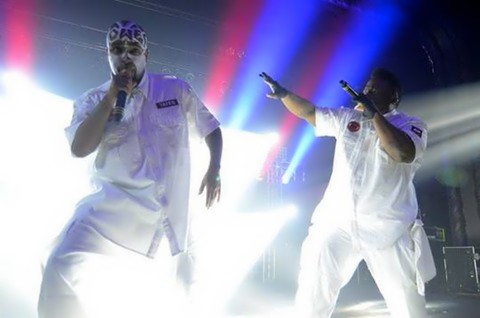 Coming from the underground and rising to the top, there's still a market that Tech has yet to capture: urban America.
Tech N9ne addresses this and much more in an interview with HipHopDX that was done at Tech's appearance at the 2013 Paid Dues Festival.
On his appeal to Black America, Tech says:
DX: You think there's a disconnect between your music and black culture?

Tech N9ne: Yeah, a big one. But you got a lot of black folks coming to my show now and saying, "Not all us are missing you." And I am a lot different than the regular rapper. That artwork? No, not a regular rapper. They say that looks like Rock N' Roll, Ozzy Osbourne, Megadeath, Alice Cooper shit. I have those influences. I'm not going to change that. I'm not the everyday run-of-the-mill. So just imagine how everyone felt when they saw me on the BET Cypher, "That's the same motherfucker?" That's so beautiful to me. You can't stop it no matter how much you talk shit about it, saying, "That's the devil shit." Here I am. I'm going to keep on popping up.
The very conversational interview takes a lot of unexpected twists and turns, from Tech N9ne's phone wallpaper, to his affinity for the show Girls on HBO, to revisiting his F.T.I. campaign that would prove to be a game-changer.
Click here to read the entire interview.
What do you think is the effect of Tech N9ne's music on Black America?
Leave your thoughts in the comments section below!