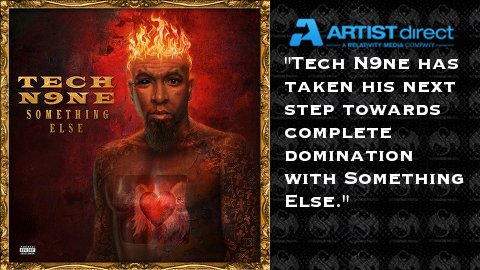 As we near the end of the year, cue the accolades for the dope shit in 2013.
Following the nod from SPIN magazine, Tech N9ne has earned a place on another list of the best rap albums of 2013, this time from ArtistDirect.com. Tech shares a spot on the list with other artists such as A$AP Rocky, 2 Chainz, Lil Wayne and more.
ArtistDirect says:
Tech N9ne does everything on his own terms. He puts out his music that way, and he tackles his art that way. Something Else builds into yet another apex for the Kansas City trailblazer. It's definitely a high point, but it still hints at even bigger things to come. That's the most magical thing about Tech N9ne. He's always pushing harder.
Click here to read the entire write up.
What do you think of the list?
Leave your thoughts in the comments section below.
CLICK HERE TO PURCHASE SOMETHING ELSE