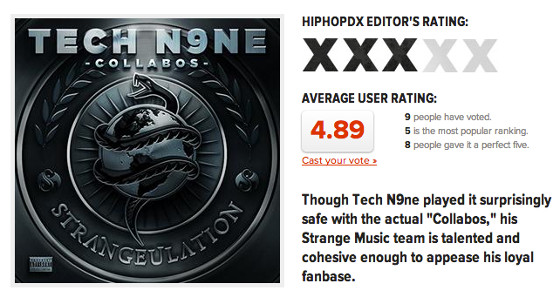 With the industry on watch, the reviews are coming in for Tech N9ne Collabos – Strangeulation.
First to bat is HipHopDX with their review of the Strange Music-centric collaborative album. Center amongst the praise for Strangeulation is the technical mastery employed by one of the most elite crews in the game.
Peep:
Of course, Strangeulation separates itself from essentially every other release of 2014 from a purely technical standpoint. Tech N9ne's multisyllabics are sharp as ever, while Murs spills dense rhyme schemes with his tongue firmly planted in cheek. The ascending Rittz keeps up with Tech and Krizz Kaliko and fits the Strange Music aesthetic impeccably well on "Make Waves," and following along with all four "Strangeulation" cyphers is enough to make even the most ardent backpacker woozy.
CLICK HERE TO READ THE FULL REVIEW.
CLICK

HERE

TO PURCHASE
TECH N9NE – STRANGEULATION FROM BEST BUY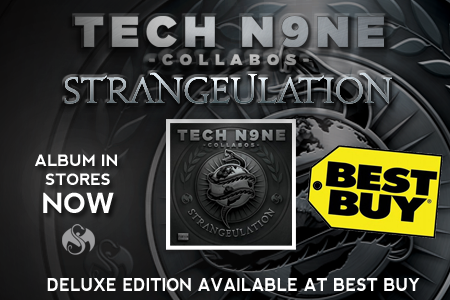 What did you think of the review?
Leave your thoughts in the comments section below.