When a Rittz album drops, expect the accolades to roll in. The newest album from the Slumerican, Next To Nothing, is certainly no exception.
XXL took to reviewing the album and gave it nothing less than high marks, citing the album's aggression, replay value and of course Rittz's impeccable flow and lyrics.
Check out this excerpt from the review
Whether you decide to play this album while riding around in your old school or on your music device, most would agree Rittz hits the mark with this album. With standout tracks like, "Crown Royal", "Going Through Hell", "Living A Dream" featuring Trae the Truth and "Bounce" featuring Twista, the album definitely has replay value and works sonically from beginning to end. With this being one of the better albums of 2014, Rittz has solidified himself a spot within the rap game for years to come.
CLICK HERE TO READ THE WHOLE REVIEW
CLICK

HERE

TO DOWNLOAD
NEXT TO NOTHING DELUXE EDITION ON iTUNES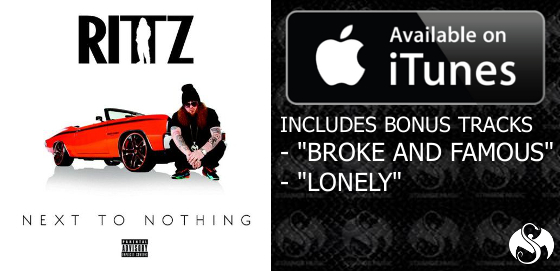 What did you think of the review?
Leave your thoughts in the comments section below.