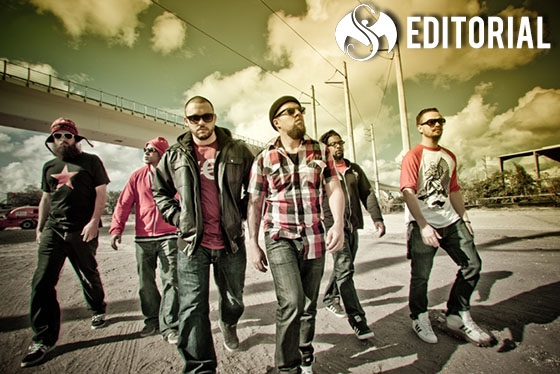 Beyond the release of Tech N9ne's Everready (when Strange Music became a fully independent entity), the modern era of Strange Music began once ¡MAYDAY! signed the dotted line.
The Kansas City-based label rose to prominence in the ever-turbulent music business because of three things: 1) the sound created by Tech N9ne and the largely-KC-based talent he co-championed, 2) the forward-thinking business acumen of Travis O'Guin, and last, but most important, 3) the dedicated fans that took to Tech N9ne's incredible music and Strange Music's extra-mile approach to customer satisfaction.
When Strange Music signed a Miami collective known as ¡MAYDAY! to the label in 2011, the sound and look of the label would never be the same. No longer is Strange Music a.k.a., "Tech N9ne's label," rather it's a hotbed of eclectic talent, exposing different regional sounds and skill-sets.
From Rittz's southern bounce and electrifying flow, to CES Cru's lyrical dexterity, to Stevie Stone's mastery of the turn-up, and to the most recent addition, MURS's ever-changing approach to hip hop, the Snake and Bat has become a symbol that represents quality product and artistic integrity. But it was ¡MAYDAY! that kicked in the door, drastically widening the expectation of what a Strange Music album is supposed to "sound" like.
Previously, with releases by Tech N9ne, Krizz Kaliko, Kutt Calhoun, Prozak and Brotha Lynch Hung, the stigma (rightfully attached or not) of the "dark" sounds in a Strange Music release was widespread. Brooding instrumentals, growling harmonies and an operatic approach to hooks would, for many, put Strange Music in a certain box. With Take Me To Your Leader (which, at the time of this post, celebrates its 3 year anniversary), the Strange Music Box (pun intended) was opened, flattened, tossed away, and never to be seen again. Because of ¡MAYDAY!, and the talent that was ushered in afterwards, greatness is the only thing left to expect from a Strange Music release.
Don't believe it? Look at this timeline we've arranged of ¡MAYDAY!'s game-changing moments since joining the label and then try to argue otherwise.
https://www.youtube.com/watch?v=bv2J5Ppop3M
April 18, 2011 - ¡MAYDAY! Signs To Strange Music
Ardent followers of Tech N9ne and Strange Music went "Who's ¡MAYDAY!?", but would soon find out. The group that had already made a splash in their local Miami scene and beyond, with music videos featuring Lil Wayne and Cee Lo, signed the contracts and cemented themselves in the legacy of the Snake and Bat. With Strange Music's flawless record of turning signees into nationally-distributed releases, fans knew a ¡MAYDAY! release was imminent. Now it was just a matter of when...
https://www.youtube.com/watch?v=IW6HTpQBwGw
May 26, 2011 - ¡MAYDAY! Starts The All 6's And 7's Tour
Strange Music fans would get their first taste of ¡MAYDAY! before they could even cop a Strange Music-released ¡MAYDAY! album. On The All 6's and 7's Tour, fans became immediately aware that this group of eclectic talents was bringing a drastically different sound to the label. By kicking off their set with a dizzying, percussive instrumental, the band immediately set themselves apart, not only from their labelmates, but everybody else in hip hop.
https://www.youtube.com/watch?v=24qy1VCFV3I
November 8, 2011 - Tech N9ne Collabos - Welcome To Strangeland Features "The Noose"
One of Tech N9ne's most touching and impactful records, "The Noose" has been an ode to US troops that has gotten many a soldier through the insufferable hardships and conditions of war. Produced by ¡MAYDAY! and featuring Wrek and Bernz, the song is a poignant outreach from Tech to the men and women that throw themselves in harm's way for the sake of God and country. Wrekonize's heartfelt hook and Bernz's poetic personification of a soldier's psyche leaft an indelible mark upon fans and soldiers alike.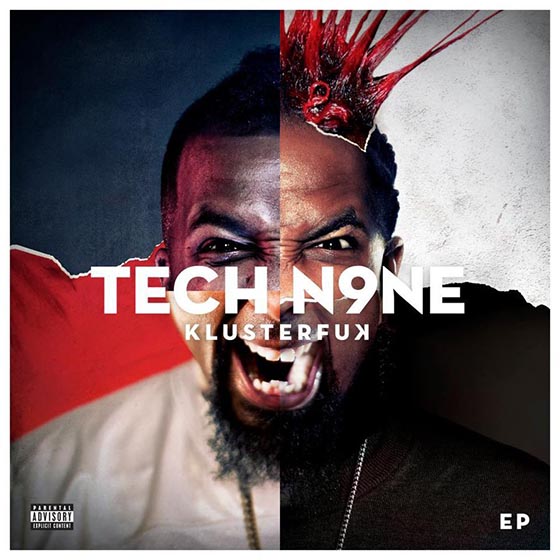 March 13, 2012 - Tech N9ne's Klusterfuk, Produced Entirely By ¡MAYDAY!, Is Released
Fans of Tech N9ne got a whole new sound than what they were used to with the Klusterfuk EP. Many cite it as their favorite, as Tech N9ne raps, storytells and sings his way through some of the cleanest and most musical instrumentals he's had in his career. The ¡MAYDAY!-produced gem did a number on the charts as well, proving to be Tech N9ne's most successful EP to date, and earning him the top spot on the independent charts upon its release.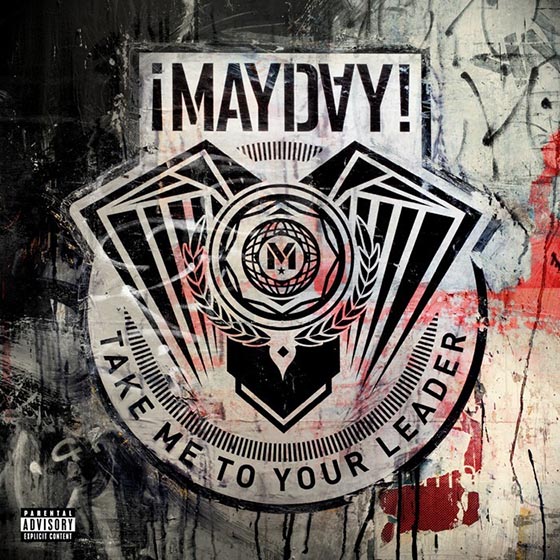 March 26, 2012 - Take Me To Your Leader Is Released
Take Me To Your Leader could be the best album we've ever released," said Strange Music CEO Travis O'Guin. Looking back, he just might be right. Ushering in a unique sounds which combines classic hip hop elements and eclectic musical textures, Take Me To Your Leader was the biggest departure in sound and approach from anything else Strange Music had previously released. Hailed by fans and critics alike, Take Me To Your Leader might as well be considered a modern classic at this point, as it's aged beautifully, sounding just as fresh as it did the day it hit the shelves.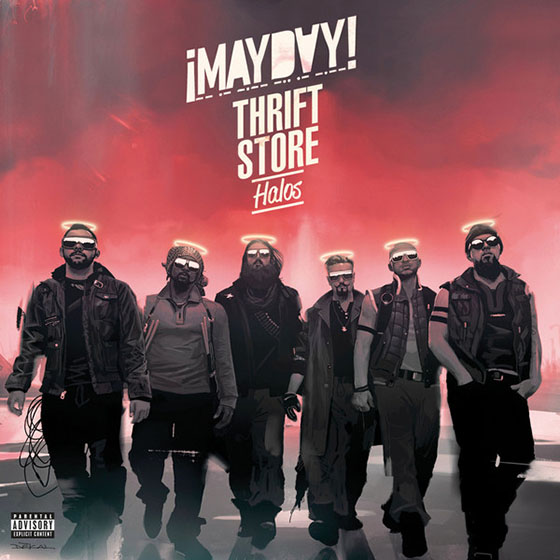 August 7, 2012 - Thrift Store Halos EP Is Released
¡MAYDAY! released the James Dean of an EP with Thrift Store Halos, bringing a cool-factor to the label that is distinct and original without being the least bit contrived. With this EP, ¡MAYDAY! brought a chill element that was fresh to the label and to the genre as a whole. Instrumentals like the melodic "Exile" and the somber "Letter To The Lost" are rounded out by songs like the martial number "Strange March", (which also marks the first time CES Cru collaborated with a Strange Music artist outside of Tech N9ne). Songs that thematically didn't fit into Take Me To Your Leader formed the perfect smoke sesh soundtrack with Thrift Store Halos.
https://www.youtube.com/watch?v=IKs5OsT4dIY
June 25, 2013 - ¡MAYDAY! Produces Tech N9ne's Biggest Hit To Date With "Fragile"
Tech N9ne truly delivered on his promise when he released Something Else, an album full of themes and sounds unlike anything he's done. The immediate standout was undoubtedly "Fragile" featuring Kendrick Lamar, ¡MAYDAY! and Kendall Morgan. The backlash against music journalists was also produced by ¡MAYDAY!, who laid a sonic bed of lulling guitars over a groovy and pounding 3/4 beat. Tech N9ne and Kendrick put ignorant critics on blast and Tech's world was never the same. The single took off as an MTV Jam of the Week, was in heavy rotation on FM radio across the nation, and earned him a national television debut with a performance on Jimmy Kimmel.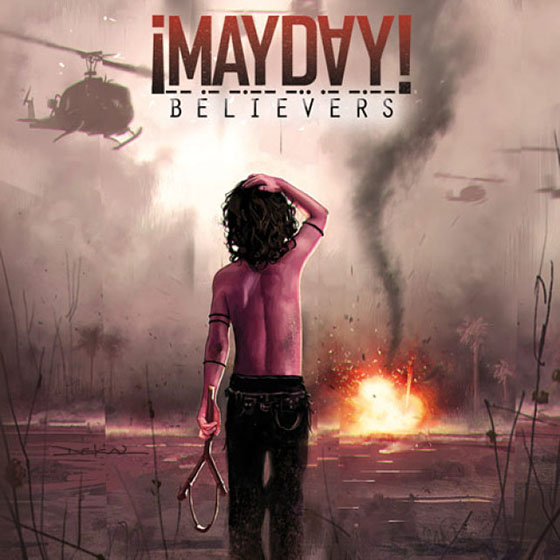 July 16, 2013 - ¡MAYDAY! Releases Believers
The ¡MAYDAY! that we've come to love and a brand new ¡MAYDAY! came in a single package with the release of Believers. Building on their mastery of textures and rhythms, Believers saw some stylistic excursions that expanded what the group had to offer. The downtempo grooves of "HighRide" and "Good Pressure" are perfect nighttime companions while the rollicking "On That Jack", "My Life", and "Tear Shit Down" are necessary uptempo contrasts. The greatest offering the album served came for the last song "Shortcuts and Dead Ends", an emotional and reflective coming-of-age song that quickly turned into a fan-favorite.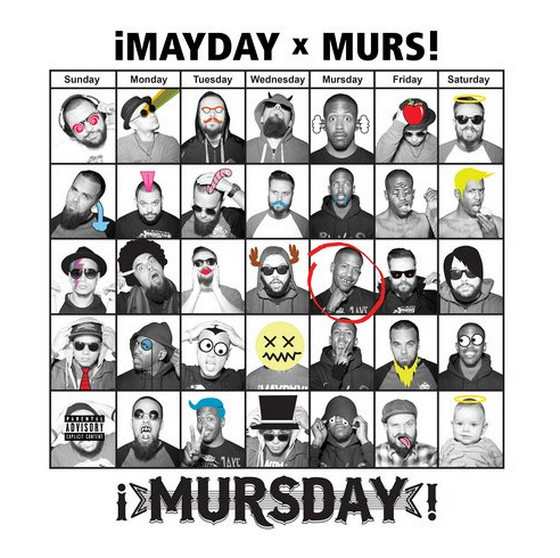 June 10, 2014 - ¡MURSDAY! Is Released
MURS's introductory album on Strange Music came not in the form of a solo release, but this dope, summery, and very necessary collaborative project between him and ¡MAYDAY!. ¡MURSDAY! immediately presented itself as the perfect soundtrack to anything cool about summer: turning up ("Tabletops", "Brand New Get Up"), having a good time ("Beast Out The Box", "Spiked Punch"), celebrating ("My Own Parade"), and sex ("You Again"). The biggest hit of the album came in another coming-of-age epic, the somber-turned-victorious "Here", earning itself rotation on FM stations and a permanent place in the hearts of fans.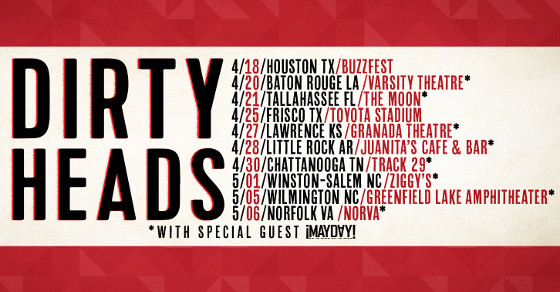 February 25, 2015 - ¡MAYDAY! Announced To Be On Nationwide Tour With Dirty Heads
The Snake and Bat is about to spread in a huge way as ¡MAYDAY! heats up the stage for headlining act Dirty Heads. What's bound to be one of the best cross-promotional lineups of the year, the genre-defying acts will tour the nation in April and May, taking the nation by storm with their unique sonic hybrids.
---
Right now ¡MAYDAY! is currently in the studio, readying their upcoming summer album. We expect greatness, but other than that, as is often the case with ¡MAYDAY!, we don't know what to expect.
What's your favorite ¡MAYDAY! moment since they signed to Strange Music?
Leave your thoughts in the comments section below.
CLICK HERE FOR TICKETS