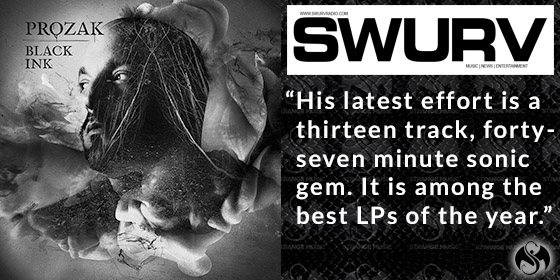 The album hasn't even dropped yet, but those who have heard Black Ink, the feedback is nothing short of spectacular.
Swurv Magazine offered up their review of what is arguably Prozak's finest album yet. The in-depth review is a great synopsis of the album, and also is not short of praise for the project.
Check out some of what they had to say
"This final assertion is true of the sum of Black Ink. Prozak has concocted a masterpiece. His ability to juggle a plethora of tones, genres (often in the same song) and his consistently sharp emphasis on poetics only further heightens his emotive heft. His decision to gravitate to themes of anguish, our corrupt civilization and to always look within only makes his sensational approach all the more accessible. It is also glorious, appropriate and deeply felt. His mature content continues to evolve and liberate, as does his music. Prozak's latest sonic experience will prove timeless."
CLICK HERE TO READ THE ENTIRE REVIEW
What'd you think of the review?
Let us know in the comments section below!
CLICK HERE TO PRE-ORDER
BLACK INK ON iTUNES