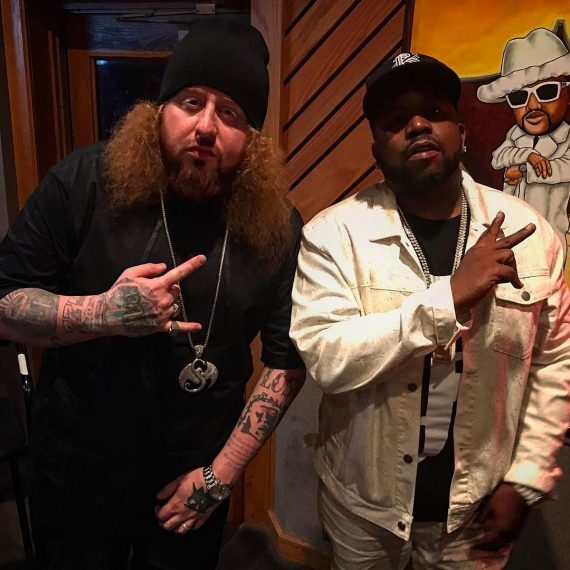 A few weeks back, we reported Rittz and Killer Mike had been talking collab. And by "talking" we, of course, mean a tweet was sent. Twitter is by no means official, so while exciting, it certainly wasn't set in stone. Last week, however, the collaboration of our (and Rittz') dreams got some real traction when he had the opportunity to visit the legendary Stankonia Studios and linked up with both Killer Mike and Big Boi.
Making the moment even more exciting, Killer Mike followed up his tweet with a video (with an appearance from Rittz himself) saying,"Songs coming soon!" You can read the full recap here. Again, it was vague, so, to get some clarity (and hear about how dope Stankonia Studios is), we talked with Rittz to get some clarification on just what exactly is going on with Killer Mike and gain insight into what it was like to be at the legendary studio.
First, how did you originally get linked up with Killer Mike?
With Killer Mike, I've been knowing him for a minute – before Run The Jewels. My manager, Scender, actually knew him before. I met him over at Tree Sound Studios. I had always wanted to work with him. Killer Mike was supposed to be on the last album (Top of the Line), but he was busy with Bernie Sanders while I was doing it. So, when I asked fans who they wanted featured on the album, I was like, "tweet at him!" When they tweeted, he was like, "I owe Rittz. I'm down."
How did you connect with him at Stankonia Studios?
They were doing a thing last night at Stankonia – a legendary studio. They were doing, like, a showcase of rappers – which was pretty cool. So, last night, we decided to holler at him to see what's up. It was tight. Ray Murray, of Organized Noize, came out with Scender and he took us back into the studio. We got to listen to music and chop it up with him in the studio on some private shit. And this dude's an Atlanta OG in the music game, you know? So then, Killer Mike walked in, we talked about doing the record, took a pic, and got on some videos.
What about Big Boi?
With Big Boi, it was such a big party going on, those guys kind of kept it quiet in the studio, but  that's always been somebody that I've tried to land a feature with. He's one of the main guys that I've kind of crafted my style after and main influences. Growing up, I always wanted to be like Big Boi. It was kind of cool being in that atmosphere that influenced me so much as a kid. I looked up to these guys so much, and now I'm among them like they are peers. It was dope, man. Hopefully we can get this Killer Mike shit and just keep building with Big Boi. Maybe one day, I'll get that as well.
What was it like to be in a legendary studio like Stankonia? 
It's a fan moment: where you want to fan out and you want to get a picture by every plaque and be a fan, but you gotta get a grip. Nothing's wrong with that, but to be there and be somebody they know, be somebody they think is a dope lyricist, it's a feeling of accomplishment. It's a dream come true moment. When I was a kid, I would never have imagined being in the Organized Noize Studio, so to be down there is an ultimate achievement.
In regards to working with Killer Mike, do you have anything set?
We haven't started anything yet. As of now, he's 100% down. I'd love to do it. We'll see how it works out. Hopefully it'll be a definite thing.
Where are you with the new album? Do you already have something in mind for Killer Mike?
I just got started working on my album, it's gotta be in by July and it'll come out in September or October. Still no title yet.  You know, I've actually been working with Seven – kind of pointing him in the direction of some beats I get influenced by. I think he's already got one that would be the perfect sound for Killer Mike. Especially after kicking it with him, I started thinking of which ones would be the perfect sound for him. I think I do have something in mind.
CLICK HERE TO PURCHASE TOP OF THE LINE ON iTUNES