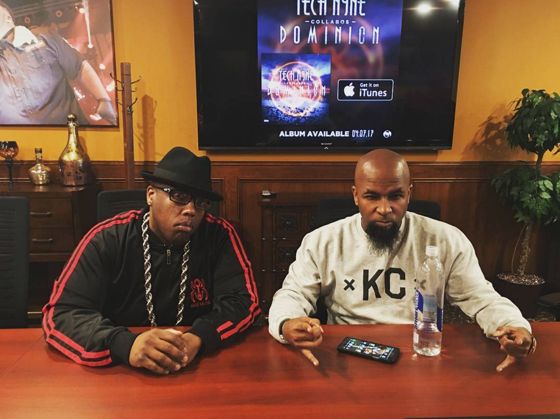 With Dominion less than a month away and the Strictly Strange Tour embarking NEXT WEEK(!!!), Tech N9ne and Krizz Kaliko sat down at Strange HQ to jump up on Facebook Live. During the 40 minute stream, the dynamic duo took fan questions, talked Strictly Strange Tour and Dominion, and premiered a brand new song entitled "Drama".
Between hearing how "Drama" came together and what inspired it, crazy tour stories, and Tech spitting acapellas, there was so much to pay attention to! To make it easier for you, we broke the biggest takeaways from the live stream!
"Drama" Was Inspired by Missouri Gun Law
At the beginning of the year, Tech's home state, Missouri, passed a bill allowing for permit-less concealed carry. It was (and still is) a hotly contested piece of legislation. With lines like "Dead under gun law", "Everywhere you go, you hear the gun shots", and, more overtly, "Now in Missouri, I don't gotta have a permit," the law clearly had an effect on Tech. In fact, Mr. Yates said the bill inspired him to make a song that was "heavy artillery based," and that's the message he relayed to Seven and Krizz; both of whom really matched that sentiment. Though "Drama" isn't a political song, it's definitely influenced by politics. Regardless of how you feel about the bill, it's interesting to see what external forces inspire how Tech N9ne and Krizz approach the music.
"Drama" Video Coming Soon!

In addition to working on tour videos, Tech also mentioned that they were shooting a video for the "Drama," making it the first song from Dominion to get the visual treatment. With such a virulent yet emotional vibe and some  jarring lyrics, translating "Drama" into visuals is no small task, but with his mind already in a video space doing tour videos, Tech will definitely come up with something great!
Tech N9ne is Working with Token!
When asked about "The Ups," Tech went on an impassioned rant that reflects the attitude every elite emcee needs. When discussing how he never backs away from a challenge, he talked about "Speedom," a soundtrack for Devil's Carnival, and also some work we have yet to hear.
Tech mentioned the buzzing up-and-comer Token and how Token sent him not one, but two songs. According to Tech, he turned around his guest verse for token so fast, they sent him another! Even better, the second one had Chino XL and Kxng Crooked attached! We were there to talk "Drama" and Dominion, but how can you not get excited about Tech, Token, Chino, and Kxng Crooked all on the same song?!
"Angels In The Playground" will make you cry!
It was amazing to read all the comments about how Tech, Krizz, and Strange Music have helped save peoples lives. More than money, fame, or plaques, it's the number one thing that motivates the artists. As Tech put it, "That's why we do it. That's why Travis O'Guin keeps going."
He then talked about one song off Dominion that will be one for the soul, "Angels In The Playground." Touching on the emotions of losing a parent, "Angels In The Playground" features  Tech N9ne, Stevie Stone, Krizz Kaliko, and a choir! Tech noted that Krizz, combined with the choir, "is gonna make everyone cry" and Krizz added, "I get emotional every time I hear that." It is also the final track on Dominion; what a powerful way to end the album!
The Second Collabos Album Is Almost Ready To Be Assembled!
Earlier this year, Tech hinted at not one, but two Collabos albums being released, and on his live stream, he shared another morsel of information. The second Collabos album of 2017 is almost done! According to Tech, there are 18 total songs, 15 of which are already completed! Tech has planned to lay down the final 3 before he leaves for tour, and while on tour, will also assemble the album! That's insane! Before I pack for a weekend trip, I have a panic attack. I can't imagine prepping for a 74-day tour–which  includes some sort of mystery video (see below)–doing a music video, and laying down three tracks. I guess it's that work ethic that allows for a 68 show tour!
Tech Has Something Groundbreaking Planned For The Tour & "Fragile" Is On The Set List!

Speaking of the tour, the stream started off with Tech talking about the preparation, but he couldn't say much because why spoil the surprise?! All we could gather is that he's been shooting videos for it. What those videos are only Tech knows, but he did say "it's something I've never seen before in the history of performances." Following up, he talked about Michael Jackson, so whatever he has planned, it must be big!
If that isn't enough, Tech later mentioned causally about putting "Fragile" back in the set list. It was a small comment for him, but for fans, it can't be overlooked! "Fragile" has so much power and emotion, it's exciting to see it back in the set list paired alongside with whatever he has planned with those videos; you can experience one of the most landmark Strange Music songs in a whole new way!
Obviously, you can watch the stream again and again, but in the moment, with other fans commenting live, with the song playing or the first time, it's so much more exciting! Be sure to keep a close eye whenever the artists go live because, you'll always learn something new before anyone else!
CLICK HERE TO PRE-ORDER DOMINION!