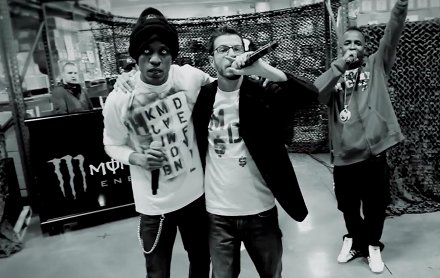 It'll be the first thing anybody sees on the Hostile Takeover 2012 Tour: CES Cru stepping in front of thousands of fans at The Midland Theatre, microphones in hand, ready to make their presence felt with their unique brand of lyrical firepower.
It's only fitting that a Kansas City duo kick off the proceedings for the Kansas City kickoff of the Hostile Takeover 2012 Tour on March 24, 2012. We spoke with Ubiquitious to get his input as to how the evening would go, how much the show means to Kansas City, and of course, his opinion as to where to go for KC's finest barbecue.
What does the Hostile Takeover 2012 Tour mean for Kansas City?
I mean it's landmark. It's record breaking. Not just for Kansas City but in general. I honestly feel like Kansas City's asleep on that. I don't know why Kansas City sleeps still on Tech and his movement but it is landmark. It's a high water mark for KC, for Strange Music and for the music industry in general.
What's it mean to be the opener at such a historic occasion?
It's an honor. It will be our second time doing the Midland opening for Tech. It's a big deal. There was a massive crowd last time. It'd be the second time also that he's given us the chance to kick off one of these tours. We kicked off The Lost Cities tour in Lawrence. It's great. He's putting us first–the very first thing you'll see on the Hostile Takeover tour. It's a cool slot and we're very happy to have it. We're going to kill it based on that.
What are you guys going to do different than from last time?
We've got some new things in the work. Stuff off of Matter Don't Money and stuff off of Godemis' proejct The Deevil. We'll probably run a couple of those things just to do it but of course there's going to be some Playground stuff in there. A couple of surprises if everything goes the way we want it to.
How's the reception been for the "Unfair" music video you guys did in the Strange Music warehouse with Tech N9ne?
Pretty outstanding! Our biggest video to date as far as traffic and how quick it's come. Especially if you accumulate the traffic from World Star Hip Hop and YouTube, it's over one hundred thousand hits right now, which is just bananas for us in a weekend.
Here's a quote from the comments on YouTube, perhaps you've already seen it: "Ubi, Ubiquitions, one of two rappers of Ces Cru. One of the SEXIEST, the FINEST, the DOPEST rappers I have literally ever seen." What do you think about that?
(Laughs) Uh…you know…(Laughs) I'll take it! I'll take it–whatever! Um…it's cool…I'm flattered. (To fan) Keep checking for me, I'll be around looking just like I do now.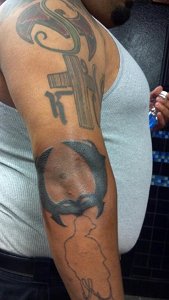 You guys are also getting fans sending in pictures now of CES Cru tattoos. How does that feel?
That is really tight. Godemis and I already marveled at it, particularly dude that's got a whole Strange sleeve that he's got going on and for us to be prominent, like our logo is big and prominent in his sleeve, it's a nice feeling.
People coming for the show in Kansas City from out of town are undoubtedly going to want some of Kansas City's finest barbecue. What is your personal favorite?
Man! Such a local debate. You know I feel like there's a pretty much clear cut top five: you've got your
Arthur Bryant's, you've got your Oklahoma Joe's, you've got your Jack's Stack, Gates of course, and then there's some other debatable barbecue joints, but my personal favorite is Oklahoma Joe's. It's ridiculous. The ribs–go get a rack of ribs. That's what I'd say. It's like two days of eating though, you're going to have food for two days. Get a rack of rib from Oklahoma Joe's. That's pretty much your best barbecue in the city, Jack's Stack is probably second for me.
Anything you'd like to say to the fans driving in to see the Kansas City Show?
You know you might as well get a hotel because it's going to be a party and you're not going to want to get in your car and go somewhere afterwards. You might as well get a hotel and check the city out. You've got a lot of tight stuff to do. Jazz down in the Vine District. P&L is cool if you like to dance or whatever. Westport's tight. It's going to be cracking before and after the show. I hope people come to the meet and greet too. I plan on being there. So…yeah!
TICKETS and VIP PACKAGES are now available for the Kansas City date of the Hostile Takeover 2012 tour!